More Horsepower & Must-Have Extras Come in New Alienware 13, 15 & 17
Ask any Windows users what they're looking for in a portable gaming experience and they'll tell you they long for something sleek, with enough horsepower that they can enjoy their favorite games on the highest settings. Chances are they also want the latest ports, something that's ready for virtual reality games, support for eye-tracking and the best screen technology available. Revealed at CES 2017, the new Alienware 13, Alienware 15 and Alienware 17 deliver on all those things, plus more. The Dell Inspiron 15 7000 Gaming notebook provides a cheap way to get NVIDIA's latest graphics hardware.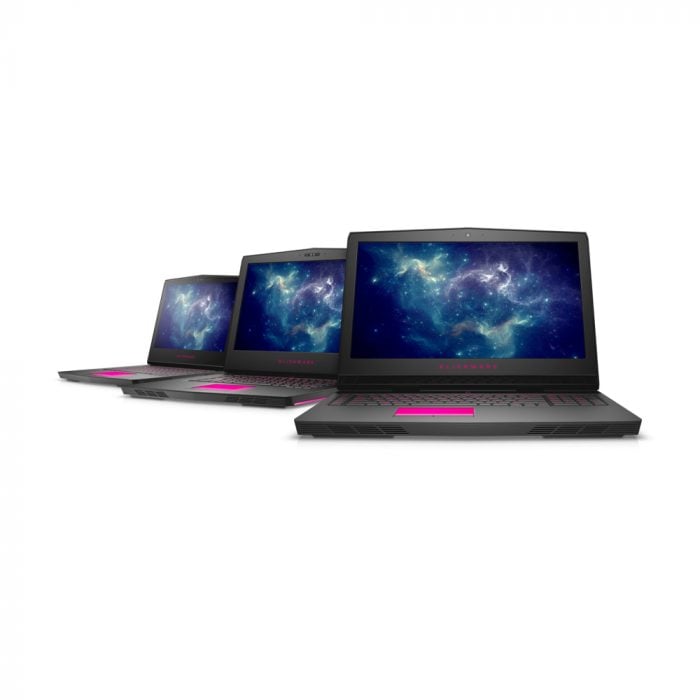 Dell revealed the new Alienware 15, new Alienware 17 and new Alienware 13 this morning. THe announcements come shortly before the start of the Consumer Electronics Show in Las Vegas, Nevada. Each offers GTX 10 series graphics cards, Windows Hello and Thunderbolt 3. They can each be connected to an Alienware Graphics Amplifier for use with desktop graphics cards too. All these best-in-class gaming notebooks go on sale January 5th.
The smallest of the three is the $999 Alienware 13. Dell is billing it as the world's first notebook dedicated to virtual reality. Its body is decked out in aluminum to lend it a more high-end feel than some other gaming notebooks. The glowing trackpad and keyboard from older Alienware 13 models are back. From top to bottom, the notebook measures 0.87-inches. That's a bit less than its predecessors.
Every model comes with an Intel 3.5Ghz quad-core Core i5 or Intel Core i7 processor. Intel HD 630 Graphics power the machine when gaming performance isn't a concern. When gaming, the Alienware 13 switches to the NVIDIA GeForce GTX 1050 with 2GB of RAM. Buyers can replace that graphics card with GeForce GTX 1050 TI with 2GB of GDDR5 RAM, GeForce GTX 1050 TI with 4GB of dedicated RAM or the NVIDIA GeForce GTX 1060 with 6GB of GDDR5 RAM. 8GB of system RAM is standard, but 32GB of RAM is supported too.
Infrared cameras above the HD, FHD or OLED QHD touch display let the system identify users and log them in automatically, or track where their eyes are. Alienware is also using the technology to let the notebook decide whether to stay awake or put itself to sleep. Among the standard ports are HDMI out, a Thunderbolt 3 port and a USB Type-C port. Thunderbolt allows users to connect to docks, televisions and power sources with a single cable. The port also allows for speedy file transfers.
The $1,199 new Alienware 15 includes the same improvements made for the Alienware 13. It has an optional 15.6-inch 4K UHD Display with a 3840 x 2160 resolution. There also an option to eke out more graphics performance with an NVIDIA GeForce GTX 1070 with 8GB of GDDR5 dedicated RAM.
At the high-end of the new Alienware line-up is the new Alienware 17. Sporting a price tag of $1,399, it's the best mobile gaming experience the company offers on any notebook. As with the Alienware 13 and Alienware 15, shoppers can plug in their monitors and other accessories using Thunderbolt 3. Where it differs is in horse power, screen size, graphics options and eye tracking.
It can be configured with a 17.3-inch 4K display and an NVIDIA GeForce 1080 graphics card with 8GB of GDDR5X RAM. An Intel quad-core Core i7-7820HK processor can be overclocked to 4.4GHz. This graphics card backs up the Intel HD Graphics 630 that comes standard.
The Tobii eye tracking technology in the Alienware 17 is more sophisticated than in the rest of the line-up. The Alienware 17 wakes itself from sleep when users gaze at it. Gamers can also turn on gaming analytics and targeting based on their stare. There's also AlienFX, which uses the system's LED lights to extend the gaming experience beyond what's being seen on screen.
Finally, for those that want something a little more toned down, there's the new Inspiron 15 7000 Gaming notebooks. Both use 7th Generation Intel Core i5-7300HQ quad-core and Core I7-7700HQ quad-core processors and support NVIDIA's GTX 1050 and GTX 1050TI graphics cards with 4GB of dedicated RAM. The 14-inch model will only feature a 1080p LED display. Inspiron 15 buyers can choose between that display, a 1080p FHD LED Touch Display and a 4K UHD LED display.
To hit the cheaper $799.99 price, Dell isn't including a backlit keyboard standard on the Dell Inspiron 15 7000 Gaming notebook. It's also launching on January 5th.

As an Amazon Associate I earn from qualifying purchases.