New Quantum Break Release Detail Will Spark Controversy
Video game developer Remedy Entertainment and Microsoft are sure to spark some very interesting conversations with new details about the Quantum Break release they announced this morning. In another sign of the company's changing tactics, Microsoft confirmed today that Quantum Break is no longer an Xbox One exclusive. Instead, it's an Xbox exclusive, meaning its coming to PCs running its Windows 10 operating system.
Microsoft revealed surprise new Quantum Break details and a trailer for the game this morning on its Xbox Wire news blog. Quantum Break is a single player game and television show feature Shawn Ashmore. An accident at a universe empowers Ashmore's characters and a few others with the ability to manipulate time. Which he uses to take on corporation Monarch.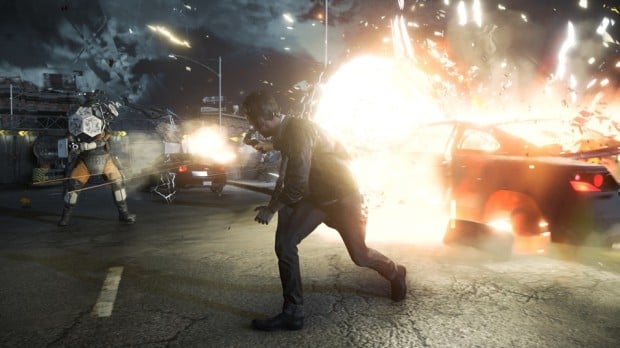 The release date for Quantum Break was originally going to be sometime last fall, but Microsoft and Remedy entertainment delayed the game into this year. April 5th is when the Xbox exclusive arrives on store shelves now.
In today's post about the game, Microsoft finally clears up months of speculation about the platforms that Quantum Break will be available on. "Xbox wants to empower gamers to play the games they want with the people they want on the devices they want," the explanation begins. Microsoft is giving users that place a Quantum Break pre-order codes to access a Windows 10 version of the game at no additional cost.
Somewhat tellingly, Microsoft says that only those that pre-order a digital version of the game will get the token for the Windows 10 version. The specifics sound as if Microsoft and retailers that make the bulk of their money on physical game sales might be at an impasse when it comes to digital game bundles. Recent reports point to digital game sales making big gains during the fall and holiday shopping season.
It's also possible that Microsoft is trying to prevent Quantum Break buyers from purchasing a physical copy of the game just to get the Windows 10 version and then trade-in their original copy.
https://youtu.be/d4or8YE-6P4
Microsoft also revealed that Quantum Break buyers will get free copies of Remedy's last two titles, Alan Wake and American Nightmare, at no additional cost. This is possible because of the Xbox One Backwards Compatibility Program that Microsoft kicked off late last year. A special Xbox One Quantum Break Bundle is coming on March 29th for $349.99. It includes the game and a special white Xbox One.
Usually, free add-ons aren't a big deal, but Microsoft deciding to push Quantum Break on both of its platforms is sure to bother some people who feel that Microsoft making its exclusive games available on Windows 10 could destroy the Xbox One. Exclusive games are currency in the video game hardware business, acting as the main lures to any system. The theory goes that less people will purchase an Xbox One console if they can get the same game on their PC.
Others – and Microsoft, for sure – would argue that cannibalizing sales of Xbox One consoles isn't a big concern. Arguably, it's unlikely that anyone with a PC powerful enough to play Quantum Break would purchase an Xbox One just to play the game in the first place. Second, consoles and PCs have almost two different audiences. A more technically sophisticated crowd plays games on their PC. Gaming consoles are for those that don't want to worry about graphics cards or installing the latest drivers. These people don't own and wouldn't buy a gaming PC anyway.
It's also worth noting that Microsoft doesn't use Xbox One hardware sales as a marker for how successful their gaming business is anymore. The company is much more focused on how many people purchase from its digital stores and how many subscribers there are for Xbox Live. Microsoft treats the Xbox One as another device in its Windows 10 line-up.
It'll be interesting to see who's right and who's wrong. Microsoft has a Windows 10 and Xbox games showcase planned for late February. Presumably, we'll hear more about Quantum Break for Xbox and Windows 10 then.