New Samsung Galaxy Alpha Details Leak Ahead of Release
The Samsung Galaxy Alpha is quickly approaching if latest rumors are accurate. A brand new smartphone design and size that Samsung will use to take on the incoming iPhone 6. Yesterday more details regarding the potential August 13th announcement date arrived, and now we've received additional details and pictures.
Over the past few months rumors have been running wild regarding new metal-clad smartphones from Samsung. Most of the rumors of a Galaxy S5 Prime or Galaxy F have faded, and instead all the focus is on the Galaxy Alpha and upcoming Galaxy Note 4. Last week we saw our first clear images of the improved design, and now all we need is an actual release and launch date.
Read: Samsung Confirms Metal Design for new Smartphones
After seeing live images of the device at a soft-launch in Brazil, today another set of leaks have once again confirmed the name, design, and specs of the all-new Samsung Galaxy Alpha. Everything from the sleek aluminum bezels to the specs under the hood. The Alpha is positioned to essentially be a smaller, yet more powerful Galaxy S5.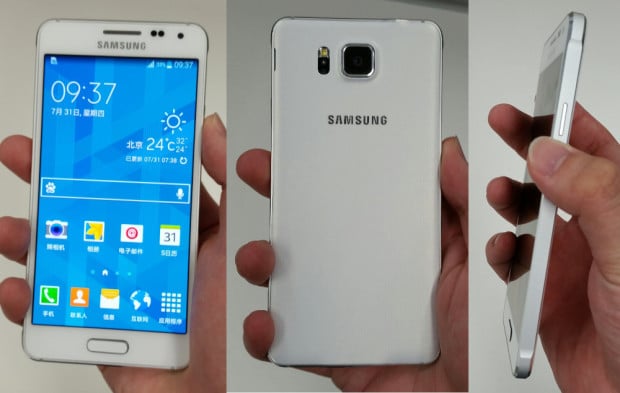 Samsung's next major announcement will take place on September 3rd just ahead of the annual IFA event in Berlin, Germany, where we can expect to see the new Samsung Galaxy Note 4, possibly a curved Galaxy Note Edge, and even a new Android Wear smartwatch from the company. However, rumor has it the Galaxy Alpha will launch ahead of the Note 4, meaning an announcement should be coming this week.
For those not following along, the Samsung Galaxy Alpha is reportedly going to directly try to compete with the new bigger iPhone 6 in many of Samsung's popular markets, but we've yet to confirm that will include the United States. The phone features a smaller 4.7-inch 720p display, rather than the large screens Samsung's employed as of late. This is the same size as the new iPhone 6, and it has a similar aluminum bezel around frame too.
The full details include Android 4.4.4 KitKat, the 4.7-inch 720p HD display, and an 8-core Samsung Exynos processor with 2GB of RAM and 32GB of internal storage. This won't be what is released in the US, if it ever comes stateside, but we'll have to wait and see. It rounds out with a 12 megapixel ultra fast auto-focus camera, 2.1 front shooter, a small 1,860 mAh battery, and a brand new design approach from Samsung.
Today GSMArena received pictures showing the new Samsung Galaxy Alpha actually outperforming top-tier smartphones like the Galaxy S5 and HTC One M8, but that could be due to the impressive 8-core processor inside, vs the quad-core setup from the others. This means that while it will be smaller, and have a lower resolution display, it should be a very powerful flagship smartphone.
Read: Samsung Galaxy Alpha Rumors & Photos Emerge
Below are a few brand new photos that have surfaced of Samsung's upcoming smartphone, ahead of the potential August 13th announcement. If the device indeed is set to be revealed tomorrow, we'll have all the news as it arrives. That being said, traditionally Samsung takes the stage for a major launch, and if they intend to battle Apple and the iPhone 6 with the new Alpha, we can expect a big unveiling.
We'll know all the details soon enough regarding the new Samsung Galaxy Alpha, if it's coming to the United States, and what all it has to offer. With leaks appearing daily now, a release date should be quickly approaching. It's also worth noting the design shown above matches recent leaks of brand new Samsung Galaxy Note 4.

As an Amazon Associate I earn from qualifying purchases.