New Samsung Galaxy Alpha Leak Reveals Key Details
The new Samsung Galaxy Alpha is quickly approaching if latest rumors are accurate. A device which looks deliver a brand new design and approach from Samsung to take on the incoming iPhone 6. More and more rumors continue to emerge, and now we've learned additional key details ahead of the release.
Over the past few months rumors have been running wild regarding new metal-clad smartphones from Samsung. Talks of a Galaxy S5 Prime, a Galaxy F with a gold aluminum design, and now the new Samsung Galaxy Alpha. This week we saw our first clear images of the improved design, and now the rest of the details are starting to align.
Read: Samsung Confirms Metal Design for new Smartphones
Reports suggest a new smaller Samsung smartphone is in the works that will battle directly with the iPhone 6 and its larger 4.7-inch display. Samsung's continued to increase screen sizes, but the new Galaxy Alpha may be the perfect blend of all their devices for those looking for something more pocketable. This week the full spec sheet for the Galaxy Alpha was revealed, sharing all the important details prospective buyers will need to know.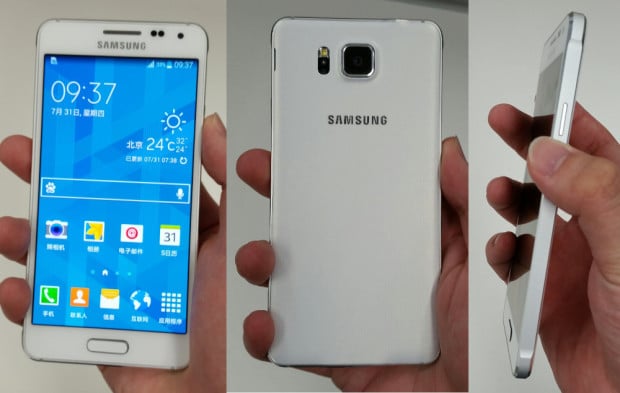 After first seeing images of the Samsung Galaxy Alpha late last month courtesy of SamMobile, last week more delivered best look yet. The Galaxy Alpha has smooth aluminum edges with subtle curves as shown above, wrapping around a smaller display than any of their recent flagship devices.
Rumors have been back and forth regarding what buyers can expect when the new Samsung Galaxy Alpha debuts, and when it will actually be released. This week Samsung themselves confirmed two new major phones are coming in the next 6 months. Which are likely the Alpha detailed here today, and the incoming Galaxy Note 4 this fall.
Today we've received the final details regarding the upcoming Galaxy Alpha from MobileFun, an online mobile phone retailer. They've leaked information and product pages ahead of official launch dates in the past, so below is what they're suggesting will be on board Samsung's new metal smartphone.
Galaxy Alpha Specs (Rumored)
4.7-inch 1280 x 720p HD display (others suggest 1080p)
New Metal Design as pictured above and below
Android 4.4 KitKat with Samsung TouchWiz
Samsung Exynos 8-core processor (Quad-core Snapdragon in the US)
32GB of internal storage
12 Megapixel Ultra-fast autofocus camera, 2.1 front shooter
Fingerprint scanner, heart rate sensor next to camera
Wi-Fi, Bluetooth 4.0 with A2DP, EDR, LE, Micro USB, GPS
As you can see above the specs detail a pretty impressive smartphone on all fronts, aside from the 720p screen resolution. That being said, if Samsung can deliver a top-tier smartphone with a new aluminum design, the same screen size as Apple's rumored iPhone 6, and deliver impressive battery life this could be an excellent smartphone for buyers this fall.
MobileFun revealed all the details in an official Samsung Galaxy Alpha product page, which was promptly removed, but here's the cached version of the page.
According to MobileFun, or Samsung, the new Galaxy Alpha will be the perfect blend of style and functionality all in an impressive 4.7-inch premium Samsung smartphone. This marks the first Samsung Android smartphone to be offered with an aluminum design, but it's not a full aluminum frame like the HTC One M8 or iPhone 5s.
As you can see from the image above the new Galaxy Alpha is smaller than the Galaxy S5, thanks to the 4.7-inch screen, but will have a similar look all while adding a new aluminum build material to the smartphone.
Recently a few reports have surfaced suggesting the new Samsung Galaxy Alpha could be announced and released inside of August in an attempt to beat the new iPhone 6 to market. A device which is rumored to launch sometime in September. More and more details continue to arrive regarding the new Galaxy Alpha, and the iPhone 6, so stay tuned for any and all information as it arrives.

This article may contain affiliate links. Click here for more details.