New Samsung Galaxy Alpha Leaks Show Off Metal Design
New Samsung Galaxy Alpha images have emerged following Samsung's comments last week. Possibly outing their next smartphone by confirming an upcoming device would arrive in the next 6 months built from "new materials" we have yet to see from Samsung in the Android space. The company actually confirmed two new phones are coming soon.
We can all but assume the main device will be the Samsung Galaxy Note 4 which should debut in September at the annual IFA tradeshow, and the second, is rumored to be the Samsung Galaxy Alpha pictured below. Last week we received our first look at the new handset, but today crystal clear images showing the white Galaxy Alpha and its aluminum design have emerged.
Read: Samsung Galaxy Alpha Rumored to Arrive Ahead of iPhone 6 Launch
Lately the rumor mills have been churning full speed about Samsung offering more smartphones this year, many of which will be built from aluminum. We've seen images of a metal gold-colored Samsung Galaxy F, and previous rumors suggested a Samsung Galaxy Prime was coming soon. However, those may all be false as the company prepares a new flagship 4.7-inch device to battle the incoming iPhone 6.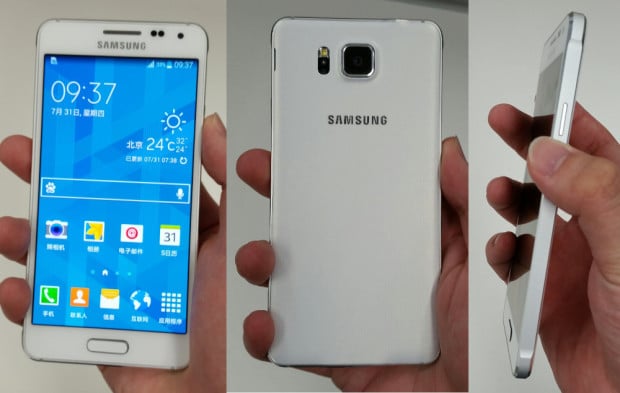 As stated above, last week we saw our first glimpse at what could be next for Samsung, as multiple photos were revealed by SamMobile. These compared the new Samsung Galaxy Alpha size and metal design to the current flagship Galaxy S5 that was released back in April.
Currently all the details remain to be seen, but with a bigger iPhone finally in the works, reportedly a 4.7-inch iPhone 6, Samsung is preparing to offer something similar in the same size category. Over the past few years Samsung's premium Galaxy S line went from 4.8-inches to 5-inch, and now 5.1-inches with the current Galaxy S5. However, it looks like Samsung may be turning the other direction in an attempt to take on Apple.
The device pictured above (and below) is being called the Samsung Galaxy Alpha, and will reportedly run Android 4.4 KitKat and could possibly be announced sometime during the month of August, ahead of the iPhone 6 reveal.
Read: Samsung Galaxy Alpha Rumored to Battle iPhone 6
New images have emerged this week courtesy of NoWhereElse, giving us our best look yet at what could very well be Samsung's next Android smartphone for the United States, and around the globe. Here we see a white version of its latest smartphone, and a good angle of the sides showing off the new and improved aluminum design.
Prospective buyers will notice Samsung isn't going all aluminum like the iPhone or HTC One M8, but have adopted a new design that should give their device a more premium look and feel.
As you can see from the images above, the new Samsung Galaxy Alpha has a very clean and sleek design, wrapped with a durable and lightweight aluminum shell. There's a simple volume rocker to the side and subtle curves on each end, with the SIM slot to the right. Which means we likely have a power button up top, with speakers and charging ports on the bottom.
So far the exact details regarding what's powering this device is still up in the air. The latest rumors that have been heard more than once is a 4.7 or 4.8-inch display but only 720p, not 1080p like Samsung's past few major releases. The Galaxy Alpha could have a Snapdragon 805 Quad-core with 32GB of storage in the US, but Samsung's own Exynos processor in other markets.
We're hearing a 12 or 13 megapixel camera is on back, along with the same heart rate monitor as the Galaxy S5, and a fingerprint scanner is also housed inside the dedicated home button around front. Below is a look at the back next to the current Galaxy S5 flagship.
Again, all the details have yet to surface, but with recent rumors suggesting an early August announcement, followed by a release at the end of the month or in September, more information should arrive in the coming days or weeks.
Rumor has it the iPhone 6 and it's 4.7-inch screen will be announced and released around the end of September as well, so keep an eye out for more details coming soon.

This article may contain affiliate links. Click here for more details.