New Samsung HomeSync to Take on Xbox One, Apple TV and Google TV
Samsung will officially begin its own Android-powered assault on set-top boxes October 6th. That's when the company will formally launch the Samsung HomeSync set-top box it first showed off this past February.
Starting October 6th, users can order the Samsung HomeSync from Best Buy, Newegg, Amazon and Samsung's website for $299. It'll also be available in Samsung's Experience Shops inside some of Best Buy's retail stores.
In a press release, the company once again reiterated the advantages of the HomeSync as opposed to other set-top boxes. Just like the Samsung Galaxy Gear smartwatch that the company announced in September, the device is completely designed to extend the user experience of Samsung Galaxy users.
Unlike other Google partners with devices in the living room, the company is using the Android operating system, as opposed to Google TV. It's possible that Samsung made the decision to use Android so that it could closely tie it with its other products. While HomeSync runs Android, Samsung has completely customized the device's interface so that it is consistent with the TouchWiz skin that replaces most of the Android user interface on its smartphones.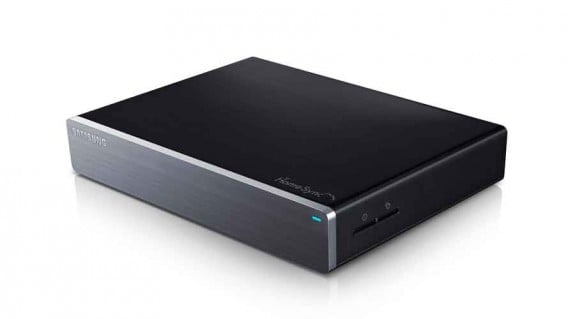 Users can upload and download music and videos from their Galaxy device to the HomeSync's built in 1 Terabyte hard drive, and store it on up to eight individual accounts. Samsung's press release says this means "photos taken by one family member at an event or on the road can be seen by another family member either from their TV or another connected mobile device." HomeSync will also allow users to get access to media loaded on the device from outside their home network.
Samsung Galaxy users aren't just relegated to sharing information with the device either. Users with the Galaxy S4 and Galaxy Note 3, Galaxy S3, Galaxy Note 2, Galaxy Note 8.0, Galaxy Note 10.1 – 2014 Edition and the Samsung Galaxy Camera will be able to control HomeSync with their devices too. Samsung says that other devices that support its Samsung Link software will also work with HomeSync too.
That being said, controlling the device with a Samsung tablet or smartphone isn't the only way to interact with it. Users can also plug-in wireless keyboards and mice.
Samsung says developers can add HomeSync compatibility to their existing Android apps with just one line of code. That means that, HomeSync users should have their pick of compatible games and apps sooner rather than later.
Read: Why the Xbox One Makes a Great Gift For the Entire Family
While the Google TV operating system seems to have stagnated in recent years, both Apple and Microsoft have shown increasing interest in dominating the living room. Microsoft's Xbox One console includes live television, gaming and media streaming technology, while the Apple TV has added a long list of video providers this year.
With this many interested parties, it seems the living room is destined to be the next major consumer electronics battleground.