New Slingbox Beta Includes Better Support for UMPC/Origami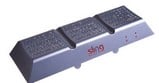 Slingbox has released version 1.3 Beta and it includes improved support for UMPC/Origami and lower res screens among other improvements. Check out what's new in the Beta here and more here. Are you using Slingbox with your Tablet PC or Origami? Report please.
Via Dave Zatz
UPDATE: Some new info just in from Dave Ciccone, of Mobility Today. I missed the importance of this in the original post, but the new Slingmedia Beta skins also have the UMPC/Origami in mind that allows you to use the touchscreen when you are slinging about. More here and Dave has a video of the new skin in action on the Sony Vaio UX180. Watch it here.