New Sony Readers: Pocket, Touch, and now Daily Editions
Sony dropped a new ebook reader today, rounding out their line by hitting three sweet spots – affordability and portability, touchscreen navigation, and now mobile connectivity with extra-wide viewability – with the Pocket, Touch, and now Daily Editions of the Sony Reader, respectively. Sadly, you can't get the best features of all three in one, but selection is nice too. Details after the jump.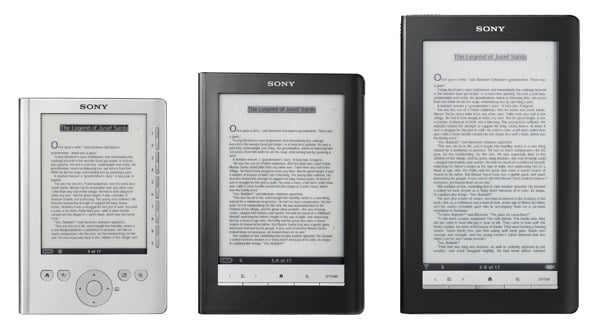 A Family of Three Readers

The Reader Pocket Edition sports a five-inch electronic paper display packaged in a stylish chassis and is available in a variety of colors, including navy blue, rose and silver. It is available for the ground-breaking price of $199, making it the most affordable dedicated reading device on the market.

The Reader Touch Edition features a responsive, menu-driven six-inch touch screen panel that enables quick, intuitive navigation, page turning, highlighting and note taking with the swipe of a finger or by using the included stylus pen. It comes in red, black or silver and retails for about $299.

The Reader Daily Edition gives consumers wireless access via AT&T's 3G mobile broadband network to Sony's eBook store from just about anywhere in the U.S.   Book lovers will be able to browse, purchase and download books as well as select newspapers and magazines when and where they want. There are no monthly fees or transaction charges for the basic wireless connectivity and users still have the option to side load personal documents or content from other compatible sites via USB.

The seven-inch wide, touch screen display provides for intuitive navigation and comfortable layout of content, including newspapers and magazines, whether you're reading in portrait or landscape orientation. In portrait mode, about 30-35 lines of text are visible, making the experience very similar to that of a printed paperback book. A high contrast ratio with 16 levels of grayscale ensures that text and images are crisp and easy to read. The Daily Edition also boasts an attractive aluminum body with an integrated cover for durability. It has enough internal memory to hold more than one thousand standard eBooks and expansion slots for memory cards to hold even more. It will sell for about $399.

All three models feature Sony's award-winning industrial design and an E Ink ® Vizplexâ"¢ electronic paper display that emulates the look of ink on paper. Sony's eBook Library software 3.0, which now includes support for many Apple ® Macintosh ® computers as well as PCs, makes it easy to transfer and read any Adobe ® PDF (with reflow capability), EPUB, Microsoft ® Word ®, BBeB ® files, or other text file formats on the Reader.
In addition to the hardware, they're addressing the critical weakness in their ereader strategy – content – by announcing a partnership with OverDrive to give users access to ebooks from their local public library.
Today also marks the launch of Sony's Library Finder application. Sony, working with OverDrive (www.overdrive.com), the leading global digital distributor of eBooks and to libraries, will now offer visitors to the eBook Store by Sony easy access to their local library's collection of eBooks.   Thousands of libraries in the OverDrive network offer eBooks optimized for the Sony Reader, and visitors can now find these libraries by typing their zip code into the Library Finder. Through the selected library's download website, visitors can check out eBooks with a valid library card, download them to a PC and transfer to their Reader. At the end of the library's lending period, eBooks simply expire, so there are never any late fees.
That's on top of their existing book selling service and the public domain books available via Google. Coincidentally, Advertising Age (via Silion Alley Insider) ran a story detailing the type of strategy Sony needs to implement to overcome their market disadvantage to Amazon's Kindle. I think the OverDrive announcement pushes them in the right direction.

Via Engadget


As an Amazon Associate I earn from qualifying purchases.