New Sony Xperia Z Leak Shows Off Concealed Flash, HDR Video Mode, and Waterproofing
Newly leaked images of the Sony Xperia Z smartphone reveals new features behind Sony's highly anticipated unveiling of the flagship phablet at the Consumer Electronics Show this week in Las Vegas. A picture of the 5-inch smartphone with its rumored 1080p full HD display shows water droplets on the phone's front, suggesting that the Xperia Z may come with some waterproofing or splash-proofing coating. Likely, as it's not a rugged device, the splash-proofing may come by way of a nano-coating material in a similar way to Motorola's Droid RAZR series.
Though the Xperia Z may not be a rugged device, it will have a strengthened frame thanks to a skeleton frame. Other features show off what appears to be detailed buttons that may be machined and etched to give a premium feel.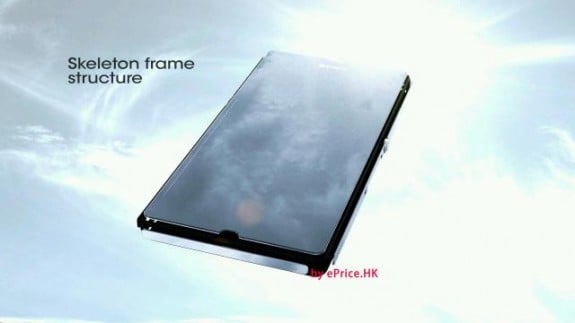 In terms of the camera, the sensor will be Sony's own 13-megapixel Exmor RS sensor. New to this generation would be the ability to capture HDR videos and photos, which would add details to video footage that are shot with mixed light so that bright areas aren't overexposed and shadows will still retain details. HDR video was first popularized by Apple on the iPhone and brought the high dynamic range photo capabilities to mainstream consciousness.
The back panel appears to be a mirrored finish from the leaked images posted on Xperia Blog, which hides the LED flash unit so you don't see it when the flash isn't going off. The mirrored finish may help customers use the rear camera to take self-portraits and self group portraits, rather than using the more meager front-facing camera with the aid of visualizing the frame on the front display. This will allow higher resolution images with the use of the better rear camera.
And the front display is said to be the first full HD Reality Display, which is Sony's proprietary display technology borrowed from the company's Bravia TV division. To enhance contrast, it appears that Sony is using OptiContrast technology, which may be akin to what Nokia is calling its ClearBlack Display screens.
We'll know in a day or two what the full specs and features of Sony's highly anticipated Xperia Z will be, but so far it looks like a solid offering with a lot of consumer-centric features and flair. Coupled with the rumored quad-core Snapdragon S4 Pro processor, the Xperia Z should be a highly competitive device for early 2013. The device was previously known by its codename of Yuga.

As an Amazon Associate I earn from qualifying purchases.