New Sprint 4G Smartphone Names Leaked for HTC, Samsung, Motorola
It looks like after having recently launched the HTC EVO 3D and the Motorola Photon 4G this summer, Sprint's 4G fall lineup will get even more aggressive with what appears to be new high-end smartphones for the Now Network. As we've heard before, there's the new Galaxy S II variant that will launch as the Epic 4G Touch. That device was previously rumored as the Sprint Samsung Within, but it looks like Sprint has decided to carry forward with its Epic franchise.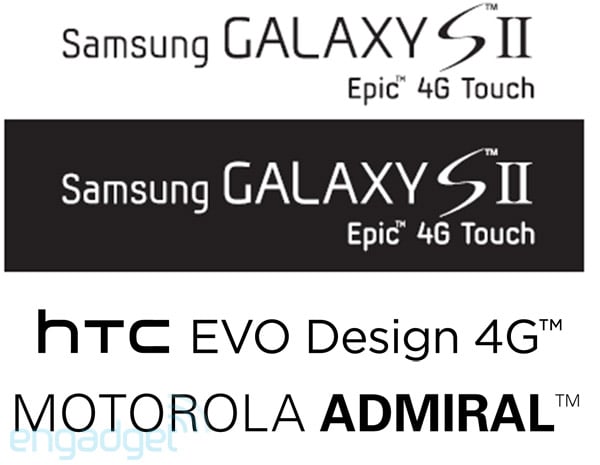 In addition, there will be two new smartphones from Motorola and HTC. There's the HTC EVO Design 4G and the Motorola Admiral.
Interestingly, it seems that the Motorola Admiral lacks the 4G nomenclature, which may suggest that the device will be launched sans 4G.
Also, it's unclear what the HTC EVO Design 4G will be, but it will be the fourth EVO franchise following the original EVO 4G, the compact keyboard slider EVO Shift 4G, and the new 3D EVO 3D. Perhaps the Design name suggests that Sprint's about to go hip and chic, following Apple's minimalist iPhone design or even the rumored HTC Bliss smartphone targeted at female subscribers. Whatever the case, Sprint's lineup is very aggressive.
Via: Engadget