New Surface 3 Pre-Orders Arrive 
Shoppers can now pre-order Microsoft's new Surface 3 iPad rival online at online retailer Amazon and at Best Buy's digital store.
Both companies began offering up pre-orders of the Surface 3 yesterday, the day after Microsoft debuted the tablet in a post on its blog. Microsoft plans to have two base versions of the Surface Pro 3 ready for launch on May 5th: one with 2GB of RAM and 64GB of storage and another with 4GB of RAM and 128GB of storage.
Best Buy lets users pre-order the $499 model with 2GB of RAM and 128GB of storage and the $599 model with 4GB of RAM and 128GB of storage. The retailer offers free shipping on any order on its website over $35. As such, those who pre-order shouldn't have to worry about any extra costs beyond taxes and the accessories they need. Right now it doesn't appear as if Best Buy is offering exclusive savings for those wanting to trade in their old Surface 2 for a Surface 3. Surface 3 shoppers who pre-order on its website now can still pick up their device in store on launch day.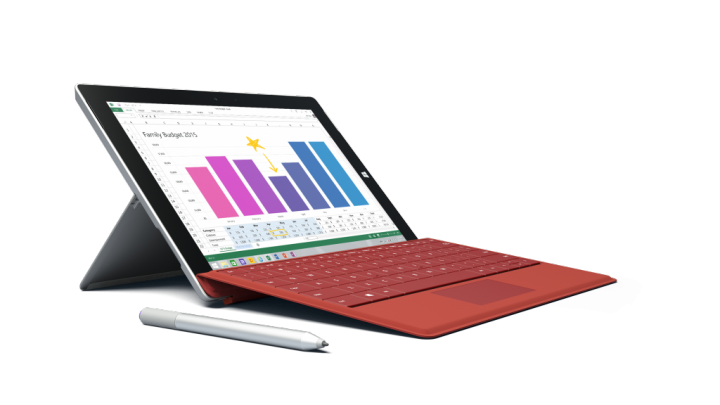 Read: Surface 3 to Tackle the iPad Air 2 This May
Amazon's offerings completely match Best Buy. There users can also pre-order the $499 or $599 Surface 3. Right now, the site doesn't offer any of the accessories users might need, like the Surface Pen or extra charger, but they should appear there as we get closer to release. Amazon is offering a $20 credit that shoppers can use towards an Office 365 subscription, that's ironic considering Microsoft is gifting users a year of Office 365 free with their Surface 3 purchase anyway.
Normally, a year-long subscription to Office 365 costs users $69.99. Microsoft also offers it in monthly installments of $6.99. Office 365 is specifically made for those who need Microsoft's suite of productivity apps, but isn't ready to walk into a store and purchase a full copy of Microsoft Office 2013 at a price of a least $119.99.
The Surface 3 comes with a power charger, but doesn't include the Surface Pen or a Surface Type keyboard so users will definitely want to factor that into any cost analysis before pre-ordering. The Surface 3 Type Cover will cost $129 when it arrives on store shelves alongside the Surface 3. The Surface Pen that lets users take handwritten notes and draw using the device's touch sensitive display is an extra $49.99. This pen is identical to the Surface Pen that launched along with the Surface Pro 3 last year.
The Surface 3 is about as close as Microsoft has come to having a decent iPad competitor since it launched the Surface line of 2-in-1s back in 2012. The Surface 3 has a taller 108-inch display so that users get more screen to manage their apps with. There's also a new thinner profile and a three-step kickstand to replace the simple two-step kickstand in he Surface 2. Of all the changes, Microsoft's decision to play to its strengths and dump Windows RT should guarantee it a fighting chance against the iPad. The Surface 3 has an Intel Atom X7 processor, meaning it runs a full version of Windows 8.1. Running a full version of Windows 8.1 means that users can install Desktop apps alongside apps they download from the Windows Store.
Read: Surface 3 vs iPad Air 2 – What You Need to Know
Microsoft has two other versions of the Surface 3 coming later this summer. Instead of adding even more power and speed, both devices will offer the same processor, RAM and storage options, but include 4G LTE connectivity so that users don't have to go in search of an internet connection when they're away from home or the office. When Microsoft originally announced the Surface 3 its website pointed to a June release date for these versions. Now it simply says, "Coming Soon."

This article may contain affiliate links. Click here for more details.