New Surface Book & Surface Pro 4 Release Details Arrive
It's still too early for anyone to expect a completely upgraded Surface Book and Surface Pro 4 Windows 2-in-1 from Microsoft. That being said, the company has two surprise announcements for potential Surface Book buyers and owners of all recent Surface models. Microsoft began letting users pre-order its most expensive, powerful Surface Book and Surface Pro 4 yet. It also introduced a slightly updated Surface Pen accessory.
Microsoft announced that it was selling new configurations of the Surface Book and Surface Pro 4 this morning. The company introduced the Surface Book as something that sits beyond what its Surface Pro tablets can do. The Surface Book is a notebook that can become a tablet. The Surface Pro 4 is an upgraded Surface Pro 3 with better display and a thinner profile. The Surface Pro 4 cost $899. The Surface Book costs a steep $1499.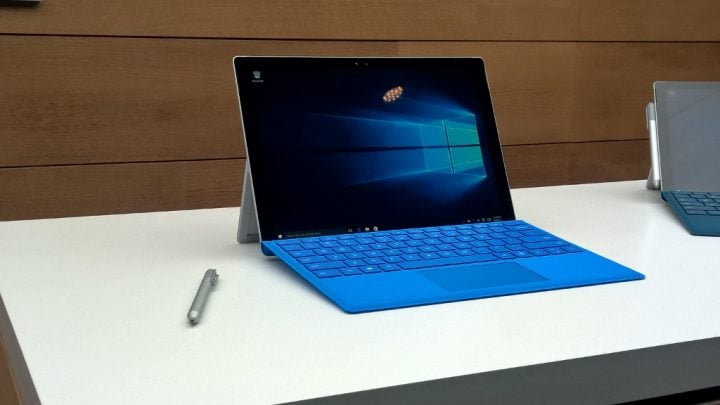 Today, Microsoft expanded on that family with one model each that offers 16GB of RAM and 1TB of solid state storage.
Microsoft's website now shows a Surface Book with 1TB of storage, 16GB of RAM, 1TB of storage space and an Intel Core i7 processors. This new Surface Book model is now the most expensive model that Microsoft sells at $3,199 before any taxes or additional fees for shipping. The Surface Pro 4 with Intel Core i7 processor, 16GB of RAM and a 1TB SSD costs $2,699 from Microsoft's online store right now. To get this model shoppers need to use Microsoft's Surface Pro 4 configuration tool to specify each piece of upgraded internal hardware.
The Surface Pro 4 isn't showing a shipping date, but the Surface Book is. Those that buy this new configuration can expect it to leave Microsoft's warehouses on February 5th, roughly four months after Microsoft first revealed both the Surface Pro 4 and Surface Book at a Windows 10 event in New York City.
Shoppers will be able to skip Microsoft's online store and purchase the new Surface Book and Surface Pro 4 configurations on their own from other retails too, Microsoft says. Unfortunately, the company doesn't say which retailers those will be in its post on the Microsoft Devices Blog. The notebook and tablet will be available directly from at least Best Buy and possibly Staples. The company worked with both retailers to provide shoppers with Surface pre-orders last fall.
Both Surface Book and Surface Pro 4 come with a Surface Pen that allows users to navigate Windows, draw and take notes. For users who want an extra pen Microsoft has the new Gold Surface Pen. Besides the new hue, Microsoft doesn't note any changes in this pen versus the other Surface Pens that it launched in October.
The Surface Pen now comes in gold, blue, black and silver. Traditionally, Microsoft matches Surface Pen colors to the colors of the Surface Type Covers. The company didn't reveal a new Gold Type Cover today. Strangely, red is not one of the colors available for some reason. The Surface Pen is available to purchase today for $59.99, the same as other colors cost. It includes a Surface Pen Tip Kit so that users can customize their writing experience. These pens work with the Surface, Surface Pro 3, Surface Pro 4 and Surface Book.
These new Surface Book and Surface Pro 4 configurations aren't enough to convince anyone not sold on Microsoft's 2-in-1 vision for Windows into pre-ordering. That being said, those who were considering purchase either but needed more RAM should be pretty happy with the upgrades.
The next major upgrade for the Surface line of devices should come sometime in the spring when Microsoft is believed to have a replacement for its Surface 3 tablet arriving. It's the Surface 3 that competes directly against Apple's regular iPad.