New T-Mobile Plans Offer Big Savings, Lots of Gotchas
T-Mobile, the United States fourth-largest carrier, is looking to extend its lead in prepaid wireless services. Its first move of 2015 is Simply Prepaid, a new set of low-cost monthly plans that should help it extend its lead over rivals with those looking for prepaid service.
T-Mobile announced the new Simply Prepaid plans on its website just moments ago. It's hoping that the new Simple Prepaid plans deliver a low enough price and some form of predictability. Those are two things, prepaid users crave from their wireless service.
Simple Prepaid plans start at $40 a month and go up from there. That $40 Simple Prepaid plan gets users unlimited talk, text and data. Also included is a 1GB bucket of 4G LTE, which is important for reasons that'll become clearer in a bit. $50 gets users unlimited talk, text, data and 3GB of 4G LTE. $60 gets T-Mobile customers unlimited talk, text and data plus 5GB of 4G LTE. T-Mobile says it'll have all three new services ready on January 25th, ten days from now.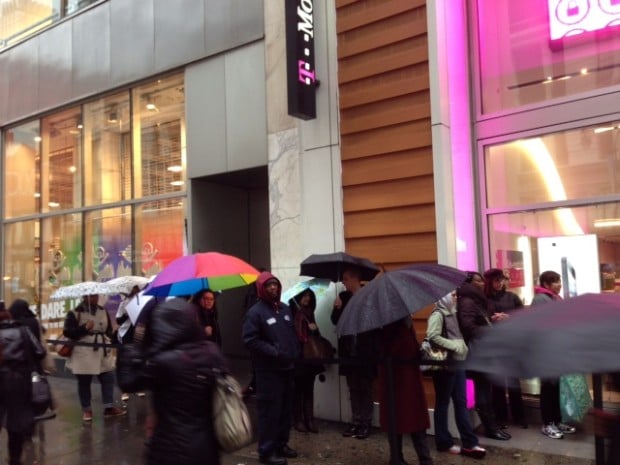 Technically, almost ever T-Mobile plan available these days includes unlimited data. The trick is that T-Mobile considers data and 4G LTE different. For example, you can have unlimited data and blow through your 4G LTE allotment. Once that 4G LTE allotment is depleted, T-Mobile will send you back to its 3G system, which is slower the 4G LTE. To be clear, T-Mobile doesn't just do that with prepaid plans, it does that with all plans unless you sign up for its unlimited service. It's a small gotcha in T-Mobile's user-friendly plans.
The Simple Prepaid plans introduces other issues. Simple Prepaid customers are T-Mobile customers, but without some of the best benefits that entails. Late last year T-Mobile rolled out DataStash, a way for users to save by building up their unused data over a calendar year. DataStash proved so interesting that AT&T announced its own data rollover plans. Simple Prepaid plan users don't get DataStash. Shortly before DataStash, T-Mobile stopped counting some streaming music services towards users' data allotments. It called this, Music Freedom. Simple Prepaid users don't get that benefit either. In fact, about the only benefit they get is Wi-Fi calling, so they can text and call friends and family in places that they normally wouldn't be able to get reception in. There's no wireless data tethering for sharing your internet connection with another device.
All told, these new plans aren't exactly the lowest we've ever seen prepaid service plans go. Cricket Wireless, AT&T's self-owned prepaid service, has 1GB data plans starting at $35, provided that users sign up for recurring payments. Cricket's most expensive plan costs $55 like T-Mobile's, but includes 10GB of high-speed LTE data instead of 5GB. That price is also with a $5 discount for recurring payments. It appears that for now, T-Mobile is just introducing these plans as a way to keep its growth going and staying competitive.
Users who want to take advantage of these new Simple Prepaid plans will need to factor in the cost of purchasing a compatible smartphone if they don't have one to use with the service already. With smartphones prices already falling, that should be too big of a problem but it is something to keep in mind. On T-Mobile a decent, but cheap smartphone runs around $100. T-Mobile Simple Choice plans allow users to purchase a device in monthly installments for a cheaper bill when they're done. T-Mobile isn't extending that benefit to T-Mobile Simple Prepaid users, which is why having a device or factoring in that cost is essential.
T-Mobile didn't announce any major changes to any of its other offerings.

As an Amazon Associate I earn from qualifying purchases.