New Tablet and Keyboard Cover Accidentally Outs the Surface Mini
Microsoft could be preparing to strike at the heart of Apple's iPad empire just when the company can't afford to show any more sings of flagging sales. At least, that's if a web page detailing more information about Microsoft's Surface Mini plans is accurate.
Found by a ZDNet reader earlier today, an Amazon Store page for the Vostrotone Surface Mini case informs users that it's custom-made for protecting the Microsoft Surface Mini and its keyboard. That alone would be interesting however, the page also lists the earliest ship date for the case as May 18th. If that's true and the case was designed with information from Microsoft,  we're looking at a little under month before Microsoft reveals the Surface Mini and battles the iPad Mini and Nexus 7 for potential buyer's wallets.
Unfortunately, that's about all there is to be gleamed from the Surface Mini case listing. Pictures of the case don't actually reveal the Surface Mini itself. As such, we don't know much about how it looks. It's likely that Microsoft choose to simply keep the design language of the Surface 2 and pair that down to a device that has an 8-inch screen. That makes sense, after all the Surface 2 was only announced and released last fall. It wouldn't make sense for the company to introduce a radical new design with a miniature tablet that could sit at the low-end of its family of devices.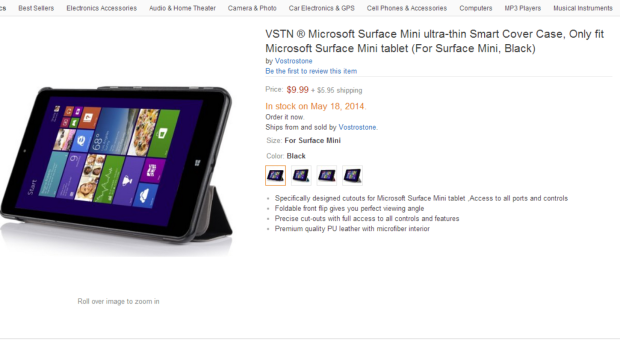 We do know a lot about how the tablet will function. According to nearly every report from a reliable news outlet including ZDNet, the Surface Mini will include Surface Pen compatibility so that users are able to take handwritten notes and draw with more accuracy than if they were using the iPad Mini. This would allow Microsoft to put a heavy emphasis on the Surface Mini being a productivity tool. That's something most tablets that size can't claim. Microsoft already makes this functionality available to Surface Pro and Surface Pro 2 users.
Read: Surface 2 and Surface Pro 2 Available
This product page for the Surface Mini case does explicitly mention that it also protects the Surface Mini's keyboard. If that's correct than Surface Mini buyers can expect a miniature version of either the Touch Cover or Type Covers that have come to define the Surface experience. The Touch Cover includes embedded sensors that act as keys. The Type Cover actually includes physical keys for those users who simply wouldn't be able to efficiently input text with the Touch Cover.  Today, both of these covers are tailor-made for 10-inch Surfaces. That being said, Microsoft does now offer a wireless adapter that would allow Surface Mini buyers to use a normal-size Touch or Type Keyboard. Having its own keyboard would also bolster the Surface Mini's reputation as a tablet that's built for productivity.
Really, there couldn't be a better time for Microsoft to announce a Surface Mini. Rumors had pegged the device for a release along with the Surface 2 and Surface Pro 2 last year, however it never materialized. In that time Microsoft has made life easier for anyone buying a Surface tablet with an 8-inch screen. It announced that Windows would be free for tablets with screens smaller than 9-inches earlier this year. It also altered Windows in a way that wallows small tablet users to store even more music, pictures and games on their device than before. All of this is on top of the changes it introduced for mini tablet users in Windows 8.1. For example, every single native app and the Start Screen can be used vertically and horizontally. Typically, smaller tablets are meant to be used vertically since they're great as eBook readers and content consumption devices.
An announcement of a Surface tablet launch is also crucial because of what Apple announced yesterday. This last quarter Apple saw a steep decline in growth for the iPad and iPad Mini. That either means that new tablet buyers are finally realizing that there are more robust tablets with more features than the iPad out there or that that Apple's tablets are priced too high. Either way, Microsoft is in the perfect position to make a cause for why its tablets are more feature robust and cheaper than their Apple-made counterparts.
There's really just one crucial issue that could put a damper on the Surface Mini's coming out party. It's unclear whether Microsoft will run Windows 8 or Windows 8 RT. If it runs Windows 8 RT users could look forward to longer battery life, however they wouldn't be able to download apps outside of the Windows Store. Including Windows 8 would allow users to install Desktop apps like iTunes, but it would also have an impact on battery life.
Either way, things sounds like they're about to get very interesting in the Windows tablet space. So far Microsoft has been comfortable with letting its partners like Dell and Lenovo compete in the low-end tablet space.

As an Amazon Associate I earn from qualifying purchases.