Barry Doyle at PCReviewSpot.com got the scoop on a new Tablet PC from LG Electronics. The LG C1 certainly looks cool in the pics, but not much on specs yet, other than it inlcudes Intel's Core Duo processor, NVidia graphics, a SIM card slot, and, as it appears from one of the pics on Barry's site, a removable slot for GSM Edge card. The pics are apparently "spy pics" so take that for what it is worth.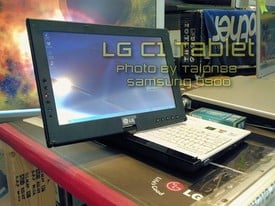 Check out more on TabletPCReviewSpot.com

As an Amazon Associate I earn from qualifying purchases.