New Tablet PC hardware in for InkShows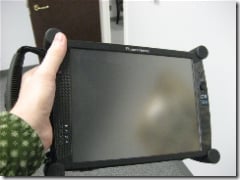 February is going to be a good month for hardware InkShows at GottaBeMobile.com.
Last month, I mentioned that I would be doing an InkShow on the Fujitsu T4215. Well, there was a bit of a delay in getting the system, but it came in last week, and I'm prepping for the that review right now. Look for it to go live the first week of February. We've had a lot of requests for this InkShow, so it should be a good one. I've already filmed a comparison between the X60 and T4215, so that part is definitely a go. Special thanks to Allegiance Technology Partners for sending us this unit.
Also on the docket is our first indepth review of a rugged Tablet PC – the Samwell SR668 Tablet PC. I pointed out this Tablet PC last week ( here and here ) and I was thrilled to find it sitting in my living room when I got home last night. First impressions – quite substantial – built to take a beating. This one will get posted sometime in February as well.

As an Amazon Associate I earn from qualifying purchases.