New Thunderbolt Display Can Turn a MacBook Air Into an iMac
Among today's announcements by Apple, one that can have a big impact on mobile computing relates to the Thunderbolt display. The display finally serves as a proper docking station for MacBooks – a docking station with benefits, that is.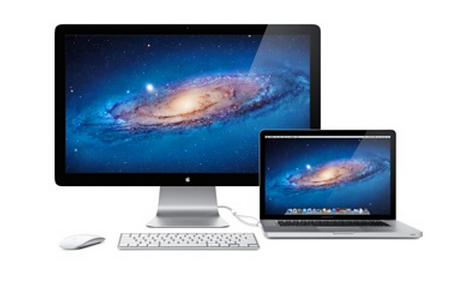 The display sports a 27″ screen with 2560 x 1440 resolution. The real standout spec, however, is the port for Thunderbolt I/O. The previous Cinema Display would also connect with MacBooks, but adding Thunderbolt to the mix opens a new world of possibilities. Since Thunderbolt can transfer high-speed data in both directions, any MacBook connected to the display will have access not only to the huge screen, but also to the Thunderbolt Display's ports. These include: three USB ports, a FireWire port, another Thunderbolt port, an ethernet port, and the display's webcam and audio.
With this new Thunderbolt Display, old docking solutions are made more elegant and new connections are possible that weren't before. Previously, MacBook users would have to connect FireWire drives directly to a MacBook Pro. MacBook Airs had no way of getting FireWire capabilities. Now this can all be done through the Thunderbolt Display – with one plug in the Air.
This now opens the door to scenarios where users can have a "daisy-chained" series of FireWire peripherals sitting at a desk. Once connecting to a MacBook Air to the Thunderbolt Display via a lone cable, it will essentially come to life as a powerful workstation that would make most iMacs proud.
The only potential downside to this is that Apple will ring you up for $1000 for the Thunderbolt Display. It certainly won't be a docking solution for every MacBook owner for that reason, but if you own a MacBook Air and want to turn it into a semi-professional home workstation – Apple's new product can help you do that.
Apple Store via Wired