New Titanfall Maps & Missions Release Slated for May 15th
Titanfall, the first-person shooter with its roots in online multiplayer experiences, may not have boosted sales of the Xbox One to where the Sony's PS4 is, but it's still a good game. This week developer Respawn Entertainment announced that it'd be releasing the Titanfall Expedition DLC, the first of three major planned pieces of downloadable content, on May 15th.
Respawn formally announced the date and pricing for the Expedition DLC yesterday. Xbox One owners will be able to purchase the content through the Xbox Store tomorrow for $9.99. Users who want to save a bit can pick up the Titanfall Season Pass, for $24.99 Season Pass buyers will get access to all three planned pieces of downloadable content. That $5 savings likely won't do much to convince users who don't make a habit of buying extra content for their games, however those on the fence should find the savings in line with what they'd see from other titles.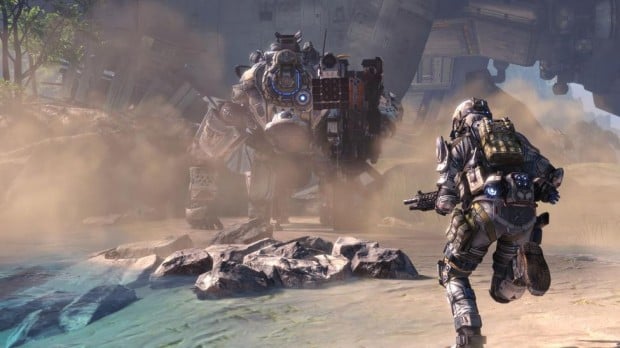 Titanfall Expedition DLC is essentially another campaign consisting of four different maps, and that campaign is handled in the same way as the game's original campaign. That means users will go head to head with other online players just like in multiplayer. The key difference is that there will be some story objectives and context for why users need to achieve those objectives.
Read: 3 Tips for Xbox One Titanfall Players
This new campaign will take place in three new locations not yet seen in Titanfall. As its name suggests, Swampland drops players in a wooded area to fight against each other for supremacy. The closeness and height of the trees around the map should act as the perfect cover for snipers and pilots to jump from tree to tree and take down unsuspecting victims on the forest floor. In fact, that's exactly what happens in the YouTube video Respawn released of the three maps.
Of the three included maps, Runoff feels like more of the same. Its set in an industrial environment just like a few of the game's other maps. The difference here is that users will need to keep an eye on multiple levels and even the other side of the map or risk being taken down by sneaky pilots with better long-range weaponry.
Finally, there's War Games. It takes place in the same computer generated environment as the game's rather long initial tutorial. This has allowed Respawn to stuff it full of different combat situations to test player's grasp of Titanfall's specific combat. For example, there's a lot of surface area for users to run on walls
All told, it's a very impressive lineup of new maps. Especially considering, some other multiplayer games charge users as high as $15 for new maps after the game has been launched.
To be clear, Titanfall Expedition doesn't appear to add any new core features to the user's gaming experience. Despite what some might think, that's a good thing as this allows users who aren't keen on buying extra content to continue enjoying the game the way they have been so far. Presumably, Titanfall's online matchmaking system will start informing users that they don't have specific DLC for certain multiplayer matches shortly after the content launches. Users will still be able to play the game, but it's possible the population of users playing the older maps might dwindle over time.
Presumably, Respawn has plans to continue adding new features, balancing the game's mechanics and addressing any issues that crop. It's already proven to be fairly reliable in doing those things. After all, originally there was no way for users to create private matches. Respawn added that feature in a small update that was free of charge to all users. The hope is that Respawn will continue to add more features the game sorely needs, like character customization, in small free updates instead of including them in these DLC packs.
Titanfall players on Windows and Xbox 360 will have both the singular purchase option and the Season Pass option available to them when the Titanfall Expedition DLC launches on those platforms as well. Windows users should also see the DLC arrive tomorrow. Unfortunately, the news isn't great for Xbox 360 users. Titanfall for Xbox 360 users won't see this downloadable content arrive in the Xbox 360's Xbox Store until June at the earliest. This is sort of expected considering the game launched late on the Xbox 360 as well.
Getting Expedition will be as simple as picking up a downloadable code in store. However, buying the Titanfall Season Pass is a slightly different story. Users will need to head to the Titanfall page in the Xbox Game Store to purchase the Season Pass. After making the purchase each DLC pack will unlock automatically once they're available. At this point, Respawn has only confirmed that there will be three sets of DLC map packs. There's been no word on when those other two map packs will arrive. We also don't know anything about the new play environments they'll contain.