New Toshiba Type-C Drives Work on Laptops or Android Phones
Toshiba introduced a couple of new drives this week at CES: the Toshiba Canvio Premium, a series of hard drives featuring both USB Type-A and USB Type-C support, and the Toshiba TransMemory EX Dual, a flash drive with both USB Type-A and Type-C ends.
Apple and Google were some of the first companies to put out a laptop that seriously relied upon the new USB Type-C standard, both for power as well as data. Unfortunately that left early customers of these products without much in the way of ecosystem or accessories – at least, not without needing to fiddle with funky adapters or USB-A / USB-C cables.
This CES, however, has seen the release of USB-C-equipped laptops from essentially every manufacturer. Consequently, accessory makers (and traditional manufacturers, making their own accessories) have started to flood the market, which is good news for new laptop owners.
Toshiba's Canvio Premium will be available in three different models, featuring capacities of 1, 2, and 3TB. Unfortunately, the company doesn't give much more information than that – such as drive speeds. Modern USB connections are more than fast enough to saturate a hard drive's bandwidth, however, so you can probably expect to get around 100MB/s in sustained reading and writing.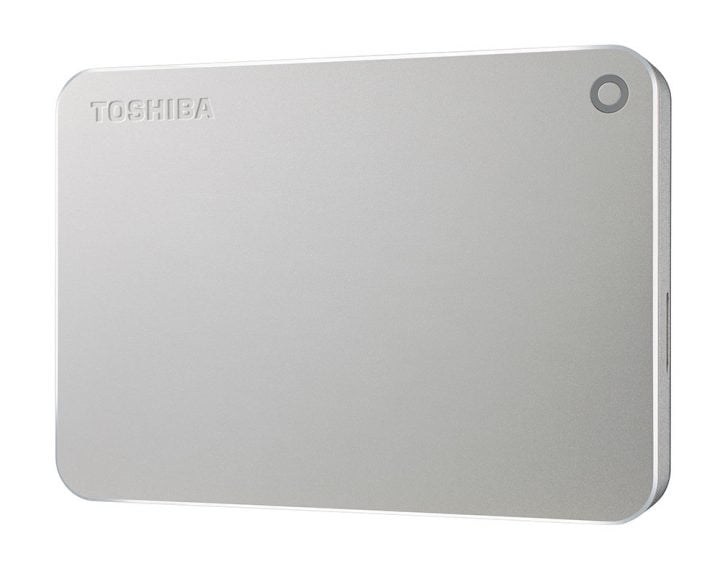 At this point in time, there's almost no reason why future external hard drives and SSDs can't support both USB standards, at least until USB-C completes its takeover of the USB standard.
Flash drives, however, require a bit more work and engineering to support both standards – which is why it's so nice to see options like the TransMemory EX Dual. We've seen similar flash drives from other companies – where one side will have a traditional USB plus on it, for laptop compatibility, and the other side will have a micro-USB port for plugging into Android phones.
The EX Dual replaces that micro-USB port with a USB Type-C port instead – a smart bet as future smartphones and laptops will likely support the standard. Toshiba promises that users can get up to 95MB/s sequential read speeds, and up to 80MB/s sequential write speeds.
Toshiba's Canvio Premium is on sale today; the 1, 2, and 3TB models will sell for $85, $130, and $160, respectively. The TransMemory EX Dual, meanwhile, will see release in the second half of this year; a 32GB drive will cost $40.

As an Amazon Associate I earn from qualifying purchases.