New Touch-Friendly Music Player Coming to Windows 8?
When Microsoft releases its Windows 8 operating system next year, which will be optimized for tablets, the OS may be accompanied by a new music and media player that will also get the same finger-friendly, touch-optimized treatment. Screenshots of the new media player have been leaked out via Winunleaked.
The player will allow users to access music from a folder, device, or other location, but is said to not be as full featured as Windows Media Player. Additionally, it will also allow users to purchase and download music from Microsoft's Windows Store.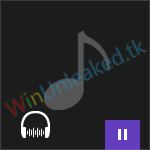 The app itself can be docked next to other Metro apps.

As an Amazon Associate I earn from qualifying purchases.