New ultraportable Fujitsu Lifebook spotted at 3GSM
GottaBeMobile.com reader Bruce Ford took some pictures of an unannounced new Lifebook ultraportable from Fujtisu, codenamed Helios. As Bruce points out below, the new ultraportable has HSDPA with 7.2Mbit/s and HSUPA with 1.4Mbits/s integrated. With the covering, it is impossible to determine if the Helios has touch or tablet pc support
From the pictures, it appears to be a widescreen. I've include Bruce's email to us, below the pictures, with all the details. You can click the pictures for closer look at Helios.
https://www.sierrawireless.com/product/HSUPA_products.aspx
https://www.fujitsu-siemens.com/aboutus/press/press_releases/index.html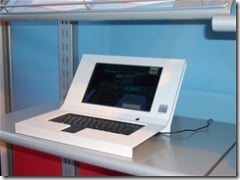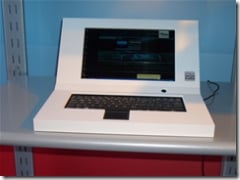 The pictures show a Fujitsu Siemens Lifebook during the 3 GSM in Barcelona, with some disguise. The machine is almost complete covered.
Very interesting is the fact that it has HSDPA with 7,2Mbit/s and HSUPA with 1,4Mbit/s integrated. So it will be the very first notebook with this new technology integrated.
Under the hood the system will get new Intel processors with more power and less consumption. The Lifebook — codenamed ""Helios" is a super ultraportable notebook. This system is considerably smaller than the typical HP, Acer or Dell 12inch systems. It is estimated to weight around 1.? kg. However, no further information available yet if the Fujitsu Siemens engineers managed it to include an optical disk drive into this very small formfactor .
What I could found out during a chat with the booth guys, the new Lifebook is expected to be released soon. The system was displayed on the Sierra Wireless booth.

As an Amazon Associate I earn from qualifying purchases.