New Update Bringing Independence Day Fun to GTA 5 Today
Xbox 360 and PS3 GTA 5 players are in for a treat this Independence Day weekend. Rockstar Games, maker of Grand Theft Auto 5 and its online counterpart, have announced new downloadable content that'll be available for free beginning today.
Rockstar announced what it's calling The Independence Day Special earlier today in a post on its blog. Like past content updates, the Independence Day Special will focus on GTA Online, the multiplayer counterpart that comes included with the single player GTA 5 experience.
So what can users expect from the Independence Day Special update for Grand Theft Auto Online? For starters, Rockstar is adding two new vehicles that almost scream "American." The first is the Liberator, a giant monster truck with two American flags hanging out of its rear. The Sovereign, a motorcycle, will join the Liberator as rides available exclusively to users who download the Independence Day Special for GTA 5. Both will feature a custom American flag paint job.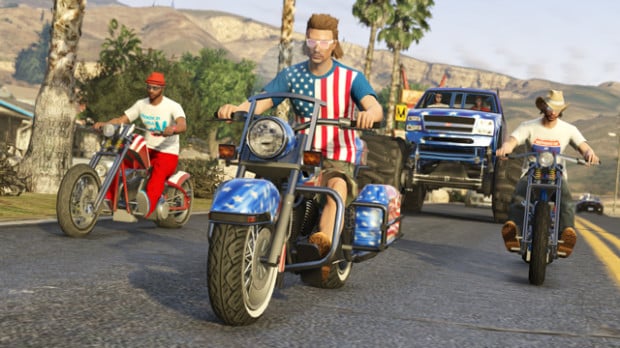 This is Grand Theft Auto, a game known for its assortment of weapons. This update will add two new weapons to the game's already impressive stash of firearms: a musket and a fireworks launcher that'll light up the night sky. GTA 5 owners will be able to celebrate with those weapons from a hand full of new properties in the neighborhoods of Paleto Bay and Vinewood Hills. Custom fireworks displays will also be included in the update, as well as a few new rides at the game's amusement park, Pleasure Pier.
Players will be able to deck out their character in all things American too. There's a new "Made in the U.S.A." t-shirt, mullet and a bald eagle mask for those Xbox 360 and PS3 users who'd like to dress up their character for the occasion.
According to Rockstar Games, Xbox 360 and PS3 users will have just a few weeks to download the Independence Day Special's items. Once they're gone users will likely have to wait another entire year to get things like the Liberator for their Grand Theft Auto Online characters.
Rockstar says the update will also include some fine tuning. It'll also let users sign up for a job and continue to free roam in Grand Theft Auto Online while the game searches for other players to help fill that job's requirement. This will allow players to have a little fun while they wait instead of looking at a loading screen before a job.
Both PS3 and Xbox 360 users will find that they're prompted to download the update the moment they open GTA 5. However, Xbox 360 users will need to install two separate game updates before they're ready to go. Rockstar says that the second patch doesn't contain any new content. Instead it adds compatibility for the new content updates in the second title update.
GTA 5 owners can also look forward to a special in-game Independence Day Weekend event over the upcoming four-day holiday in the United States. Unfortunately, Rockstar won't be revealing any information about that special event until sometime tomorrow.
Read: GTA 5 PS4 vs PS4 Video Shows a Huge Reason to Upgrade
Included free with GTA 5, GTA Online was one of the biggest reasons Xbox One and PS4 users wanted a version of the game for those consoles. Unlike the single-player world, GTA Online is a multiplayer sandbox, a way for users from around the world to come together and pull off dangerous robberies and more. It's one of the main reasons that GTA 5 remains such a popular game almost a year after its release.
Rockstar Games confirmed that a version of GTA 5 for Xbox One and PS4 will launch sometime later this year. It's currently available for pre-order for $60 at Amazon.

As an Amazon Associate I earn from qualifying purchases.