New Watch Dogs DLC Adds Single Player Extras & More
Xbox One and PS4 users who've already wrapped up Watch Dogs and are hungry for a bit more action can officially pick up some new single player missions and more beginning today.
Ubisoft formally announced that Watch Dogs DLC it made available to players of the game with a Season Pass was available to everyone, earlier today.
Costing just $6.99 on the Xbox One, PS4, Xbox 360 and PS 3, this new Watch Dogs DLC will let users pick up exactly where they left off. Three new single player missions will let users put the skills they earned leveling up their character to good use battling more criminals.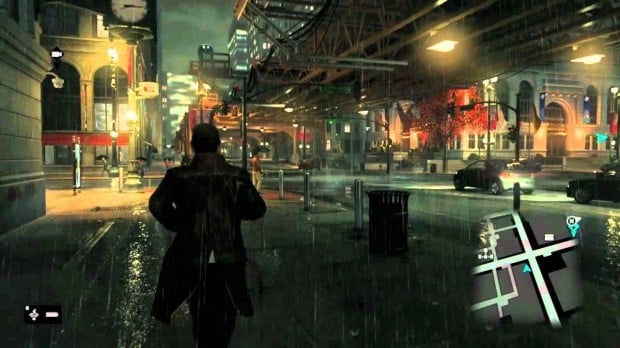 In The Palace, Watch Dogs DLC players are charged with breaking into and out of the home of a technology CEO who has information that could get the game's main character, Aiden Pearce, arrested and locked away. Players need to break into a facility holding a special biometric weapon in Signature Shot. The third added mission added in the Watch Dogs DLC tasks players with taking down and retrieving data from criminals before they can eliminate a threat to the citizens of Chicago.
The Watch Dogs DLC will also include some new equipment too. In addition to that biometric weapon is a burst fire pistol and new batteries for keeping Aiden Pearce's smartphone charged longer. Watch Dogs DLC buyers will also find that they're able to kill opponents more effectively thanks to a driving boost that makes the car they are driving more resilient and the recoil and time it takes to load a weapon far less of an obstacle than they once were. ATMs will also hand out more cash too.
All told, it's a pretty robust offering for an open world game. This DLC is more reasonably priced than what's often the case by far. Some add-on content for high-profile games goes for as much as $15.00. By making it half that Ubisoft is definitely to be commended. Of course, depending on how much they like the game users are better of simply purchasing the Watch Dogs Season Pass instead of just this piece of Watch Dogs DLC content. The Season Pass costs $19.99, but users get access to every piece of downloadable content made for the game going forward. Watch Dogs Season Pass buyers also get access to new content before anyone else does.
Watch Dogs is often compared to GTA 5. In the game users take control of Aiden Pearce, a hacker who goes on a mission to take down the people who put out a hit on him and killed his beloved niece. Users have guns, grenade launchers and fast cars at their disposal, but there are also never-seen-before hacking techniques that aid players in the game. These city-infrastructure hacks make the gameplay feel completely unique.
Read: Watch Dogs Review – Is It Worth Buying?
Using his smartphone, Pearce can shutdown entire sections of Chicago and raise or lower bridges. He can also hack cameras and listen in on every day citizens. Ubisoft's inspiration for the game was the real-life city of Chicago, which features some of the most extensive use of monitoring equipment in a single city in the United States.
Watch Dogs for the Xbox 360, Xbox One, PS3 and PS4 are still $60. That being said, users who don't mind buying on disc can pick up a used copy of the game for $54.99. Users who have the game can purchase today's new DLC for $6.99 directly on the credit or debit card attached to their PlayStation Network or Xbox Live account. They can also purchase a prepaid card with a value of $10 from their local 7-Eleven and have some money left over to purchase a few television shows on their console too.

This article may contain affiliate links. Click here for more details.