New Windows 7 slate pops up in Belgium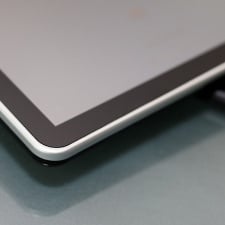 Between Steve Ballmer's claim that Windows 7 slates will come when Intel releases Oak Trail and everyone wondering when the HP Slate will arrive, it's easy to forget Windows 7 slates are already available with more popping up every day, including a new find in Belgium.
Forum member Tuur has been following a 10.2″ slate called Tablet Dune from Le.Net (Le Point Net) in Belgium. Their site (translated from French) has basic details, but Tuur shares a little more insight after getting one yesterday additional info from the vendor. The basic hardware includes Intel Atom N450 1.67GHz, 2GB DDR2 memory, Intel integrated graphics, and 160GB 2.5″ HDD, as well as 1.3MP webcam, 802.11abgn, Bluetooth, optional 3G, and the usual ports.
Tuur adds that the drive options include 250GB HDD and 16GB or 32GB SSD. The touchscreen is resistive multi-touch, which he reports is quite accurate after calibration and includes a stylus. Battery life ranges from 2.5 to 4.5 hours. The Dune is currently out-of-stock but expected to be back in two weeks. The demo video offers a good all-around view of the slate and demonstrates the multi-touch in action. I'm not going to lie to you though: the video is pretty dry. I'd recommend letting it load first then skipping around to the good parts. The device, however, looks quite nice with good response on the touchscreen.

This article may contain affiliate links. Click here for more details.