New Windows 8, RT Update Brings Major Improvements to Calendar, Mail, People Apps
A new software update being pushed out by Microsoft is bringing major overhauls to the Mail, Calendar, and People app on the Windows 8 and Windows RT platforms. The update brings additional functionality to the Metro UI apps on the Start Screen of both platforms, and will benefit the Surface RT, Surface Pro, Smart PC/Pro, Vivo Tab, and owners of other tablets and Ultrabooks that run Microsoft's latest tablet and desktop operating systems.
Users are advised by Microsoft to check for the updates for these apps through the Windows Store, and not the traditional Windows Update, according to Microsoft's official Windows Experience Blog. 
Mail
With the new update to the Mail app, Microsoft is now allowing users to filter and sort their mail more efficiently. Users can now filter to see unread mail first, which was a nice feature of the Windows Phone platform that's being ported to Windows 8 and Windows RT. There's also better folder management and you can easily create and delete folders within the Mail app.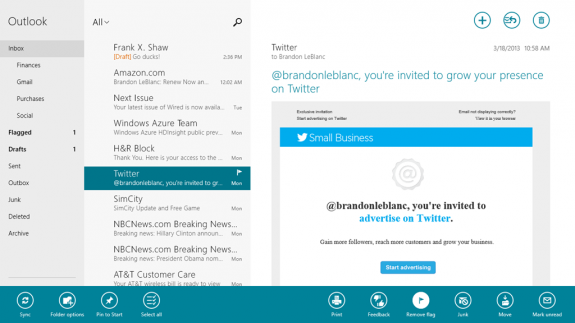 You can now also flag important messages, and the flagged messages will show up in its own folder.
There are also some new changes to creating a new email as well:
Speaking of drafting email messages – improvements have been made for composing email messages too. You can now add, edit, and delete hyperlinks and edit bulleted or numbered lists more easily in email messages. Again, this can all be found as part of the app commands in the Mail app. The Mail app also works a lot better in keeping the format of content pasted into an email message from web pages, Microsoft Word documents, and other apps.
Additionally, the Mail app will now suggest contacts that you communicate with most often through a new smart contact suggestions.
Calendar
The Calendar app now is cleaner and visually more appealing to allow for better readability. Instead of solid blocks of colors, now the Calendar app shows more white space for easy reading.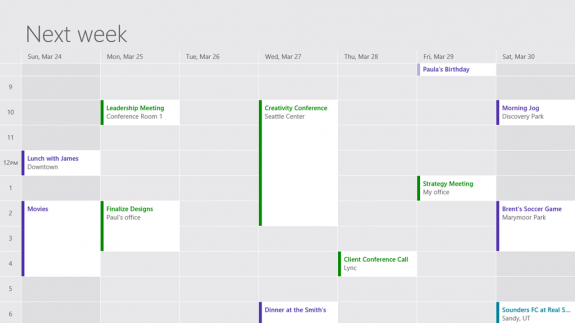 The Calendar app is now more office-friendly as well for corporate users:
The Calendar app now accommodates the use of scheduling assistant for business accounts that use Microsoft Exchange. Anyone used to scheduling meetings in Microsoft Outlook and being able to see a person's availability will be able to see the same thing in the Calendar app.
The downside is Microsoft has removed all of Google Sync support. After Google had decided to drop support for Exchange ActiveSync, Microsoft had announced that it will eventually offer CalDAV support for Google calendar synchronization, but that is not part of this software update, according to a report on PhoneArena. 
People
The People app functions much like the People Hub on Windows Phone 8 and is your central source for contact information. You'll be able to see what your contacts are posting across different networks.
You can now navigate the People app more easily by swiping from the top (or right-clicking) to bring up the app commands. There is new navigation at the top that allows you to quickly move between your profile where you can post status updates and Tweets or see what your friends are posting on the "What's new" feed. You can also now post to your friends' Facebook wall.

The new People update will also allow you to filter feeds by social network.
Like the Calendar update, the People update doesn't appear to support the CardDAV standard for contacts synchronization with services like Google.

As an Amazon Associate I earn from qualifying purchases.