New Xbox One Bundle Is the Best Way to Get Madden 16
Microsoft's Xbox One entertainment console isn't the only way for users to upgrade and experience Electronic Arts' new Madden 16 release. That said, it certainly has the best deal for those who are looking to upgrade when they purchase the game. For $399, Madden 16 shoppers get a free digital copy of the game, an Xbox One and a year of EA Access.
Microsoft announced the Xbox One Madden 16 Bundle earlier this year, but it's profiling the bundle ahead of the Madden 16 release on August 25th. Shoppers can pre-order the bundle at the Microsoft Store, Amazon and GameStop. The Microsoft Store is giving away copies of last year's Assassin's Creed Unity with their bundle. GameStop is giving Xbox One Madden 16 Bundle shoppers there $15 Live Nation Concert Cash.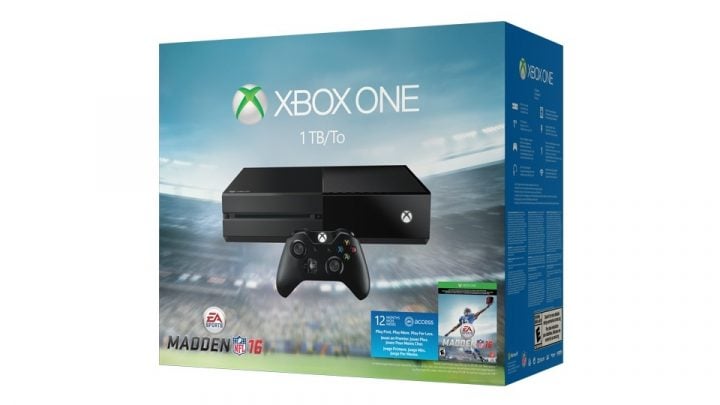 Anyone who pre-order's the Xbox One Madden 16 also gets 36 Pro Packs and a Playmaker Pack to use within their game. Playmaker Packs come with elite players, uniforms, and stadiums to use in the game.
What really sets the Xbox One Madden 16 Bundle over the top is that year of EA Access. EA Access is a subscription service for games made by Electronic Arts and available exclusively on the Xbox One. For $4.99 a month or $29.99 a year, users get to download games from the service's Vault at no additional charge. Every game in the Vault comes complete with its downloadable content. Should an EA Access user decide to purchase a game, they get a 10% discount and the option to keep their game save.
Today, Dragon Age Inquisition, Titanfall, Battlefield 4, Plants vs Zombies Garden Warfare, NBA Live 15, Madden 15, NHL 15, FIFA 15, FIFA 14, Peggle 2, UFC, Need for Speed Rivals, and Madden 25 are all games users can download now.
When big game launches come along later this year, Xbox One Madden 16 Bundle buyers will get to try those seven days before they are available on store shelves too. That's another perk of EA Access. Microsoft is already teasing early access to NBA Live 16, Need for Speed and Star Wars Battlefront for later this year.
Included in the Xbox One Madden 16 Bundle is a black Xbox One console with a whopping 1TB in additional storage. That's double what those who purchased the original Xbox One console has. Microsoft still sells that console for $349.99. A code to unlocking the digital download of Madden NFL 16 is included too, along with a refreshed wireless Xbox One control with a built in headphone port. Codes for the Madden 16 pre-release extras are also provided.
Madden 16 is all about giving users options to pull off amazing plays and letting them share those plays. Electronic Arts has changed some offensive controls to give players new options when they need to score a touchdown. Madden 16 has upgraded throwing and roll-out passing for quarterbacks. EA is wants players to weigh the risks vs. rewards of each and every play. Players get their own highlight reels to showcase their talents. Crowds appear more realistic than they ever have in previous games.
Read: Madden 16 – 5 New Details for Gamers Arrive
Microsoft includes an HDMI cable and an Xbox One Chat Headset with the Xbox One Madden 16 Bundle too.
Madden 16 is available for pre-order in this bundle or on its own. There are standard versions for the Xbox One, Xbox 360, PS3 and PS4. There's also the Madden 16 Deluxe Edition. It's also available on all those platforms but includes $50 in extras. That's where the 36 Pro Packs come from in the Xbox One Madden 16 Bundle. The PlayStation Store and Xbox Stores both offer digital pre-orders too.
The Madden 16 release date is officially August 25th, but EA Access subscribers can download a free trial today.

As an Amazon Associate I earn from qualifying purchases.