New Xbox One Experience Ruins 1 Feature
This week, Microsoft is again confirming that the New Xbox One Experience software update that it has coming will completely remove a big feature that debuted with the original Xbox one console. When the software update arrives, users will no longer be able to navigate the Xbox One Experience without picking up a remote or a remote controller.
Microsoft's Mike Ybarra confirmed that the company is removing gestures support from the software that powers the Xbox One in a new interview out this week. The Xbox One is Microsoft's all-in-one entertainment console. Besides playing the latest video games, Microsoft original vision for the Xbox One targeted it at families looking for an easier way to interact with apps and services in the living room without the complications of a remote control.
Users can switch channels or navigate an app without having to use their voice at all. The feature is particularly useful when an Xbox One controller is out of reach and voice navigation isn't interpreting commands properly.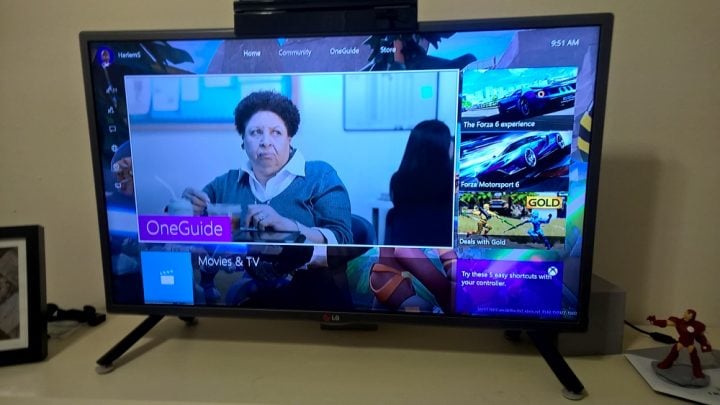 Ybarra says in his interview with Windows Central that the company has no plans to continue to support gestures on the Xbox One because people didn't use them. "On gestures, when we locked at the New Xbox One Experience we wanted to prioritize features that customers were asking for, plus areas of improvement from the existing Xbox One UI." It seems so little users actually navigated with the Xbox One's gestures that Microsoft simply couldn't justify the resources it takes to update the New Xbox One Experience for the feature. "With gestures, the reality was the usage was very, very low. So for now, we've cut that from the New Xbox One Experience."
Ybarra heads the engineering team that builds the different Xbox One experiences. The New Xbox One Experience arrives on November 12th with tons of much have features. The software update lets users play Xbox 360 games on their Xbox One, and prioritizes activities that gamers do regularly. For example, starting a party or sending a message is easier because the New Xbox One Experience includes a Guide that surfaces from the left side of the user's screen. Commonly used settings and notifications surface there too.
Read: Stunning New Xbox One Experience Revealed
When the Xbox One launched in 2013, it was a very did console. Each bundle cost $499 and included a Kinect sensor that allowed users to control their television with voice and gestures, play motion games and chat with friends. With sluggish Xbox One sales early on, Microsoft made the decision to create an Xbox One bundle that doesn't include a Kinect sensor for $399. Now, the Xbox One costs $449 with a Kinect sensor and $349.99 without. Users can buy the Kinect sensor separately for $349.99.
With gestures already hard to discover and fewer people purchasing a Kinect sensor, it seems logical that less buyers would use gestures to navigate the Xbox One's software. Microsoft has been able to boost sales of the Xbox One by focusing in on gaming and entertainment apps, leaving it's original vision for the Xbox One mostly behind.
The problem for Microsoft is going to be education and outreach. The Xbox One forces users to download software updates over it's Xbox Live service. In order to connect to the service, users must have the latest software update eon their console. In effect, Microsoft is removing a heavily promoted feature for the Xbox One and not giving users a way to keep it.
To be clear, games and apps that support Kinect gestures should work just fine. Microsoft hasn't killed Voice Gestures either, meaning users can still adjust volume, switch channels or navigate the console's interface without picking up a remote.
Ybarra says that the company will revisit the feature if user interest in having it picks up after the New Xbox One Experience launches.