New Xbox One With Huge Upgrade Tipped for Release
Every Xbox One console readily available on store shelves comes with a 500GB hard drive, but it seems that could change soon if a website posting is to be believed. Allegedly, there's a new Xbox One entertainment console coming from Microsoft that'll offer a whopping 1TB of internal storage, double what's free available today.
Lamee, a Spanish online retailer posted an entry for a new Xbox One complete with 1TB of storage recently. The page has since been pulled by Lamee, but not before it was captured by Google Search's caching system. According to the page, users can expect the new 1TB Xbox One to launch on the 23rd of June. At least, that's the date it indicates pre-orders for the 1TB Xbox One will be fulfilled.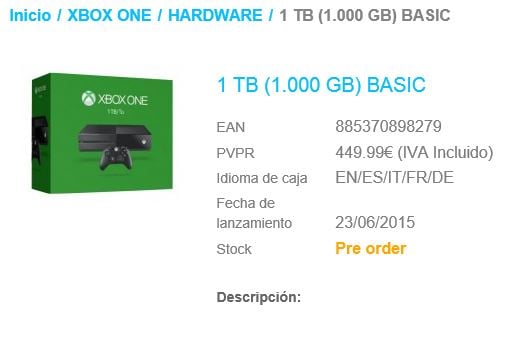 Besides the text on the page encouraging online Lamee shoppers to pre-order, there's a picture of the new 1TB Xbox One bundle in question. This picture acts as confirmation, plus reveals that 1TB Xbox One bundle buyers won't get a Kinect 2 sensor with their console. The price for this new bundle is listed as 449 euros. That roughly works out to around $500 dollars, the same price that the Xbox One with Kinect 2 sensor is available for now.
This new 1TB Xbox One bundle wouldn't be the first time Microsoft upgraded the storage available to Xbox One shoppers. That honor goes to the Limited Edition Call of Duty: Advanced Warfare Xbox One bundle that Microsoft released last fall. As such, this is merely a storage upgrade without that console's gray casing and companion controller. Still, it's a very big deal.
When the Xbox One launched with 500GB of storage back in 2013 no one knew what to expect as far as games storage was concerned. Improvements in graphics meant that games coming to the Xbox One would take up more space than their predecessors did on the Xbox 360. Microsoft originally committed to a plan that would have had every user install a full copy of their game on their Xbox One, potentially making storage even more of a hot commodity. Microsoft later abandoned its plans to force full game installs on every Xbox One, but playing a game on the system still requires installations. Even those smaller installations can add up over time, forcing you to get rid of older games that you aren't necessarily playing a lot.
To address this storage issue Microsoft added external hard drive support to the Xbox One. The console can now see big external hard drives when they're plugged into one of the console's two USB ports. After formatting, the Xbox One can automatically store games and add-on downloadable content to an external hard drive. The Xbox One pools the hard drive and internal storage together too. Users who load all of their games onto an external hard drive can travel in between different consoles with their digital games, making it much less of a chore to play on someone else's Xbox One away from home. Before external hard drive support users needed to redownload their games on each new Xbox One they signed in to.
Read: Xbox One vs PS4 – What matters Now?
Microsoft has yet to comment on the now pulled 1TB Xbox One store page. As such, it is possible that the company doesn't have plans to release the bundle. That being said, the timing of this leak is interesting. It was around this time last year that Microsoft announced the $399 Xbox One bundle that doesn't include a Kinect.
Read: 8 Games We Hope to See for the Xbox One at E3 2015
It's possible that Microsoft could reveal the 1TB Xbox One during or just before it's Media Briefing at this year's Electronic Entertainment Expo in Los Angeles.

This article may contain affiliate links. Click here for more details.