New York Times Reader 2.0 Launches
The New York Times in its quest to right its sinking financial ship is certainly looking at options. Today they've launched a new version of the the NY Times Reader. Departing from its initial effort, the NY Times Reader v2.0 has abandoned Microsoft Windows Presentation Foundation, and is using Adobe Air to to power the new reader. On first glance the new version looks very Apple-like. I find it interesting that there is no link or advertisement on the NY Times home page that you can view from free in your browser to get the new reader.
Yes, you will pay if you want the full content delivered to the application at the rate of $3.45 a week. But given what we're seeing from all sorts of struggling news agencies I think that is the way of the future. You can access some articles without having a subscription. You can even do the Crossword.
You can download it here.
Via Serge Jespers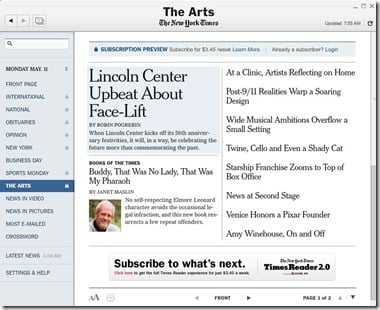 This article may contain affiliate links. Click here for more details.