New York Subway iPhone 'Augmented Reality' App
I finally got a chance to try out an augmented reality application today in New York. The app is called New York Subway and as you can imagine, it's designed to help users find info about trains and train stations.  The cool part of this application is that it will overlay info onto whatever you're pointing your iPhone at.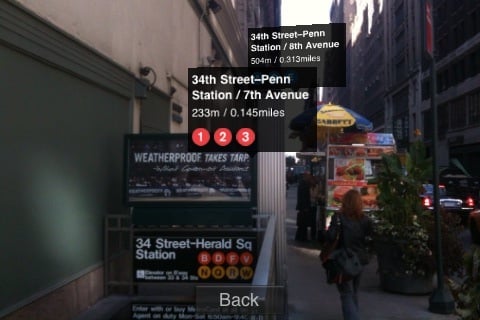 The idea behind this application is cool, but using it in the real world isn't that thrilling of an experience. The virtual signs didn't appear smoothly and jumped about the screen when I moved the iPhone ever so slightly. When I was outdoors I had to point my iPhone slightly upwards to get stations to appear.
Another problem with this application is that it just isn't all that accurate. The 34th Street-Herald Square station was about 100 yards away from me, but it was about 100 meters to the right of where it was guiding me. Close enough for most people to find the station, but far enough away to make me cross the street by mistake.
This particular application is worth $.99, but don't expectations of experiencing an augmented reality too high.For an extra $.99 you can add in fast food locations. The application will display virtual signs of your favorite burger, burrito or fried chicken vendor.