New York Times Reader Demo Showcases Tablet PCs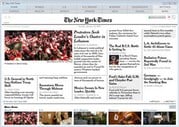 GBM Reader Nitin Badjatia sent us a tip about the New York Times Reader. In the demo tour on the site, Tablet PCs have a nice representation with what looks like the Gateway Convertible and the Fujtsu mini-Tablet PC (not sure if it is a 1510 or a 1610). That's cool, as the Times Reader (that's the official name) is certainly a cool application that can be used on a Tablet PC. Interesting though that there is no representation of the UMPC, which I also think would be cool, and I've read Kevin Tofel talking about using the application on his Samsung Q1.
The NY Times Reader is still in Beta, and now it is an open Beta. It uses the Windows Presentation Format for its engine and is quite snazzy, although it does take a bit of time to download content, at least on my systems. As more and more print publications suffer readership and advertiser loss it is good to see a few media outlets thinking and working ahead to provide digital content. Note that the Times Reader Beta works on both XP and Vista and if you're using XP you need to install .Net 3.0 which will happen automatically if you choose to install the Beta. Here's the link to check it out.

As an Amazon Associate I earn from qualifying purchases.