New YouTube iPhone App Makes It Easy To Record and Upload Videos
Today Google released a new YouTube app for iPhone to make it easier to record and share videos on the service called YouTube Capture.
The new YouTube Capture is a free app that focuses on recording videos to post to YouTube. The app opens to a screen for recording action. The main screen includes the record button, an option for choosing videos in the Camera Roll and a settings menu. It also has an option to turn the flash on or off and an option to switch between cameras.
By default YouTube Capture will only work in landscape mode, but users can turn the option off to enable portrait filming. The app also defaults to uploading videos at 720p, and can only go down to 480p even though the iPhone 5 can record 1080p video.
In addition to uploading videos to YouTube, YouTube Capture makes it easy to share those videos to Facebook, Twitter and Google+.
Users can trim their video after recording to cut out the awkward beginning or ending for every video. Users can also add free background music to their videos. There's no option to include copyrighted music, however. Google also included color correction and stabilization in the app to make videos looks better when uploaded to the video sharing service.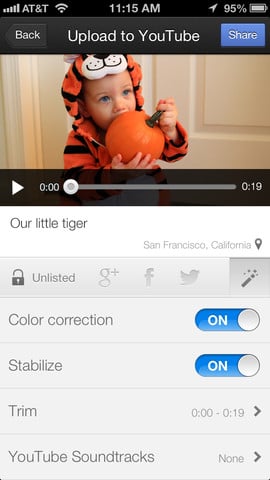 After recording the video users can enter the text for the video's description and set the video as public, private or unlisted from the app.
Apple already includes an option for sharing videos to YouTube from the Photos or Camera app. Apple's iMovie also includes the ability to share videos to Google's video service, and has a lot more features for editing the videos before uploading. The big difference with YouTube Capture is its ease-of-use and singular purpose. The price of free is also more enticing than paid apps like iMovie.
Google plans to bring YouTube Capture to Android in the near future, but there's no estimated release date for that version of the app.

As an Amazon Associate I earn from qualifying purchases.