New Zaggsparq Holds Up To Four Smartphone Charges
With the new Lightning port in the iPhone 5, we likely won't see any battery cases for a long time. However, companies like Zagg have another solution: external batteries.
Zagg recently released a new version of it Zaggsparq external batteries which provide extra charges for smartphones and tablets. The Zaggsparq is a small device that uses a Lithium polymer battery to recharge any device, including the iPhone 5 and Android devices.
The new Zaggsparq line starts with the 1220 which provides just one extra smartphone charge. It holds a 1220mAh battery which is actually a bit smaller than the 1440 mAh battery in the iPhone 5. It has one USB port to charge one device at a time and costs $39.99.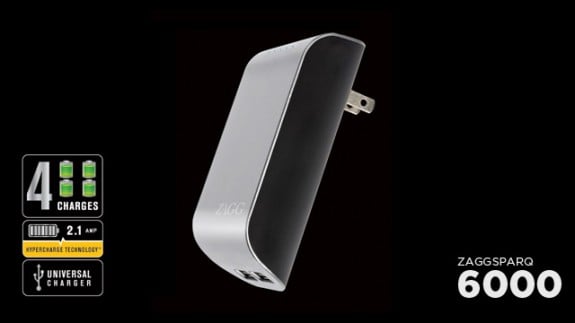 The Zaggsparq 3100 is the next step up in the external battery lineup. Its 3100 mAh battery can recharge a smartphone twice before the user has to plug it into the wall. The 3100 still only has one USB port, but it outputs 2.1 Amps which means it can also charge tablets like the new iPad. It sells for $69.99.
The top of the line is the Zaggsparq 6000. The 6000 mAh battery can hold four smartphone charges, and can charge two devices at once thanks to its two USB ports. It can charge any combination of iPhone 5s, Android phones, Android tablets, and iPads at the same time. It sells for $99.99.
All of the new Zaggsparqs are easy to fit into a bag or even a particularly large pocket. They're great accessories for users who fear their iPhone 5 will run out of battery while on the go.
Battery cases are usually more convenient, but with none available for the new iPhone, batteries like these and similar offerings from Mophie are good solutions.

As an Amazon Associate I earn from qualifying purchases.