News On HP's New 2710p Tablet PC
Word leaked out on this on Monday, but Hewlett Packard is announcing a slew of new portable computers at the HP Mobility Summit in Shanghai today and it looks like their new Tablet PC, the HP Compaq 2710p is going to turn a few heads.
The convertible weighs in at 3.6lbs, before you add a new, optional battery that HP is touting as providing 10 hours of juice. But there are a couple of other interesting new features as well. The 2710p can be equipped with an optional camera that has the capability to scan in business cards that are positioned in a groove built into the side of the keyboard. Here's more from the HP press release:
The new ultra-thin HP Compaq 2710p Notebook PC combines conventional notebook productivity and tablet PC flexibility into a single convertible notebook. In addition, it offers an optional integrated camera for convenient video conferencing(3) and image capture, an HP NightLight on the keyboard to improve visibility in low light, and integrated business card reader software. It also features a silver finish with brushed aluminum accents and incorporates the latest technologies, such as an Illumi-Lite display for weight and power consumption savings.
The 12.1 inch screen has a WXGA resolution of 1280×800. I'm making an assumption here that the Ilumi-Lite technology is a form of LED backlighting. There is also an optional outdoor viewable screen available. For graphics this new unit comes loaded with a Mobile Intel GMA X3100 with up to 384mb of shared system memory. Pricing looks to be $1699. Here's a link to the HP Data Sheet on the 2710p.
Click on the specs below (or any of the pictues above) for a larger view.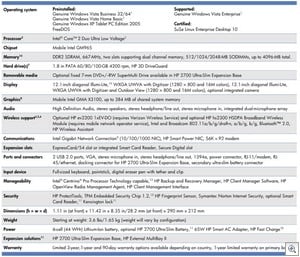 We'll be following and reporting more on this as the day goes on, so stay tuned. And, you know what? Rob was looking this over and he said, ""Wow."

As an Amazon Associate I earn from qualifying purchases.