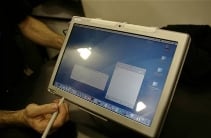 Is this a case of all good things come to those who wait? The Modbook certainly has captured a lot of attention even if it hasn't been shipped yet, but word over the weekend is that we may be getting close to an actual shipping model. There's even more news from Axiotron. Apparently they will be upgrading components once they begin shipping with no charge to those who have already ordered. These "upgrades" include the digitizer which will now feature 512 levels of pressure sensitivity. Here's the text of an email we received from Terry Cole who is one of those who has pre-ordered.
Thank you for your OWC/Axiotron ModBook Solution Order. We are
pleased to inform you of several improvements for this solution.
First and foremost, in response to significant customer feedback,
Axiotron has doubled the Pen Pressure Sensitivity of the tablet digitizer.
The original specification of 256 Levels of Pressure Sensitivity is now
increased to 512 Levels. Axiotron determined this upgrade was important and
something that would need to be done prior to shipping.
Next, through utilization of the latest Micron memory devices, OWC
is now able to offer a low profile 2.0GB memory module option for a 50%
increase in the maximum memory allowed from 2.0GB to 3.0GB.
The internal hard disk options now include the new Seagate Momentus
7200.2 160GB drive mechanism, a full 60% higher capacity than any
Other currently available 7200RPM Notebook drive. A new 250GB 5400RPM
Option is also now offered for the highest internal capacity ever and
25% more than offered on a standard MacBook.
Finally, the option of having an additional hard drive replace the standard
optical drive is available. This makes it possible for up to 500GB of total
internal storage.
Of additional significance, all ModBooks will now be based on the latest
Apple MacBook� 2.0GHz and 2.16GHz models.
None of these changes has resulted with any increase in cost. In fact
additional memory and/or a larger hard drive are also standard and costs
have been reduced for upgrade options to a larger hard drive and/or more
memory.
Primarily related to the Axiotron feature update, these solutions are now
expected to ship in very limited quantities starting in the early part of
June with all orders expected to ship by the end of July.
While we await the Axiotron ModBook Kits, OWC has updated and improved
the options to make your final ModBook Solution the best it can be and will
continue to do so as possible. We do believe the current configurable
options will not be changing again prior to ship out.
In the next 1-2 weeks, you will be sent a link inviting you to reconfigure
your ModBook(s) on order. This will allow you to confirm your free base
feature upgrades as well as give you the option to max to the new 3.0GB,
upgrade with the new hard drive options, etc. Your original order position
will not be affected by this process with original first in first out
positions remaining.
We do apologize for the delay on your ModBook order, but hope this
additional time is appreciated for the product enhancement and options
Axiotron and OWC are now able to provide.
Thank you,
The Other World Computing Team

As an Amazon Associate I earn from qualifying purchases.