Next iPhone Could Be Unlocked With Picture ID
Apple has filed for a patent that could bring a new method to secure and unlock the next iPhone, iPad, iPod Touch, or Mac computer by using and matching pictures with names. For example, the iPhone could choose a random picture–perhaps via your contacts in your address book or the tagged images in iPhoto through the Faces feature or through Facebook contacts and links–and you will identify the name of the person in that picture.
The patent filing allows for different ways for users to select the name for the person whose picture is displayed. If Josh Smith's image had popped up, I could enter his full name using the pop-up keyboard as one way. An alternative would be for the iPhone to display a list of names. If I see Josh on that list, I can swipe his name to select it. And yet another way would be with voice and I could speak his name with my voice.
Though this method isn't quite as quick to access your phone on the go as a simple swipe to unlock on an unsecured iPhone, it does bring an added level of security that doesn't require the user to remember words, passwords, or PIN codes. Additionally, with security experts warning that PINs and passwords may not be as secure as a user thinks because fingerprint traces left behind on a screen could be used to decode the PIN or password entered.
Apple's picture ID for unlocking a phone is more secure as it changes and is dynamic–you'll get different pictures to try to match names with every time. According to the patent filing reported on Unwired View, users can choose whose faces they want so they can pre-select the faces that get chosen for the security unlock feature.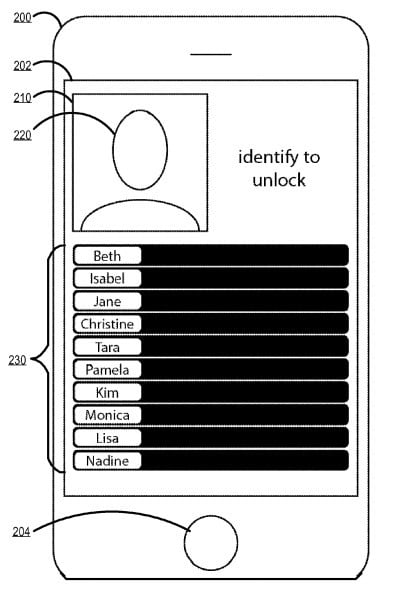 The downside here is that the picture ID for unlocking requires some mental processing–matching the face and name and looking at the face first to get a visual of what's being asked–this could be a dangerous proposition. While there are a number of U.S. states that already prohibit texting and driving–there are users who break the law and still try to operate their mobile devices while driving. With the amount of concentration it requires to access the phone, users will either not be tempted to respond to text messages or they will be so tempted that this new method for unlocking would detract their attention further away from the road.

As an Amazon Associate I earn from qualifying purchases.