Next Version of Microsoft Office Coming to the Cloud
No real surprise here given the way things are moving, but Microsoft announced today at PDC2008 that the next version of Microsoft Office will indeed include browser based versions of Word, Excel, Powerpoint, and yes, OneNote. They won't be fulled featured, (Microsoft is calling them "lightweight") and they should be comparable to Google's web apps. It looks like they will also work not only in IE, but Firefox and Safari as well.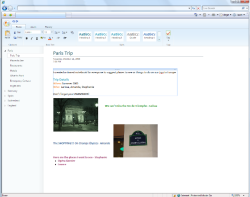 The Office Web applications will be available through Office Live, which is a service that will have both ad-supported and subscription models, so don't look for these to be quite the "freebie" that other web office solutions now offer.
Via ReadWriteWeb

As an Amazon Associate I earn from qualifying purchases.