Nexus 10 Gets a Smart Cover Accessory from Google
Nexus 10 owners who want to protect or accessorize their devices may be happy to know that Google has released its first official Nexus 10 accessory in the form of the Nexus 10 cover. The Nexus 10 Cover isn't unlike the Nexus 7 Cover in that it protects the rear of the device and has a front flap that can be folded back, like a book cover, that will also protect the device's 10-inch ultra high resolution display when carrying around the Nexus 10. The nice part about the Cover is that it works similar to Apple's Smart Cover and Microsoft's Touch Cover in that when the cover is lifted away from the display, the display automatically wakes and when the cover is closed on top of the display, the device will enter sleep mode.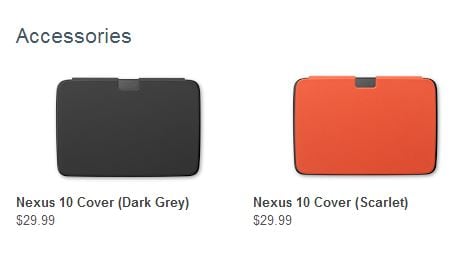 This automation helps to preserve battery life and makes things more convenient as you don't need to fumble around with pressing the sleep/wake (also called the power button) on your tablet while also trying to open the cover and situate the device into the appropriate viewing angle.
The downside of the cover is that unlike competing covers from Microsoft and Apple, it doesn't add any additional utility. Apple's cover can be folded over and can serve as a nice stand for the device, offering several different viewing angles. Microsoft's cover adds a capacitive touch keyboard so users can touch-type on the cover, freeing up valuable display space on the tablet itself as the on-screen keyboard doesn't need to come on.
At this time, the Nexus 10 Cover will come in either Dark Grey or Scarlet Red hues and will ship in about 3 to 5 business days, according to Google's Play Store. The covers retail for $30 a piece, which is cheaper than Apple's cover and significantly cheaper than Microsoft's integrated keyboard cover.
And like the Nexus 7 Cover, it appears that the rear piece is made out of a rubber material and the cover flap itself may be constructed of polyurethane.
The nice part about the cover is that not only is there a cutout for the cameras, but that you can still video chat with the front-facing camera when the cover is closed. Additionally, because of the positioning of the front- and rear-facing cameras, even when the cover is folded back onto the rear side, the back camera would still be accessible for you to use. It's a nicely thought out design.
Still, with Google I/O scheduled for next month, we've been hearing chatter of a speculated Nexus 10 successor. It's unclear if the cover will fit the new Nexus 10 if that device does materialize.