Nexus 10 Leak: Is This What Google's iPad Air Challenger Looks Like?
A new image has surfaced that is believed to be Google's forthcoming Nexus 10 tablet, a device that will directly challenge rival Apple's newly redesigned full-sized iPad in the form of the iPad Air.
Google's current Nexus 10 slate is made by Samsung, but it is widely rumored that Asus may make the next tablet for Google. Asus is already making both the first generation Nexus 7 tablet as well as this year's Nexus 7 refresh.
So far, rumored specs behind the new Nexus 10 from Google is full of conflicting information. However, given that the first generation Samsung-made Nexus 10 came with a high resolution 2560 X 1600 display, it is likely that the new Nexus 10 that's believed to be arriving soon will sport the same pixel density. This would allow the Nexus 10 to compete with Apple's Retina Display on its iPad Air tablet.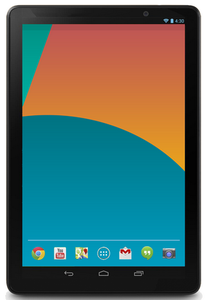 The device is also rumored to have a quad-core Qualcomm processor, though it's unclear at this time if Google will be using Qualcomm's flagship Snapdragon 800 processor or an older quad-core model to save costs and keep pricing low. And while pricing is expected to be largely consistent for the Nexus 10 from the previous generation model, Google may increase prices slightly, like what it had done recently between the Nexus 7 and the 2013 Nexus 7 model.
And according to Phone Arena, the new Nexus 10, if it will in fact be made by Asus, may be based on Asus' unreleased and unannounced Transformer Pad Infinity with a similar screen resolution and using Sharp's IGZO display that could stretch battery life to 13 hours of use on a single charge. That slate i also rumored to be powered by NVIDIA's Tegra 4 processor, like Microsoft's Surface 2.
The Nexus 10 may arrive alongside the rumored Nexus 5 smartphone. The devices would debut with the latest Android 4.4 KitKat operating system preloaded out of the box.