Nexus 10 Leaked Placard Reveals Asus at the Helm
October is the month that we may see more Google products come to light, the second-generation Nexus 10 being one of them. Mobile insider evleaks has posted what appears to be promo material of some kind for the new Nexus 10, complete with Asus's name at the front, confirming again that the company will take over for Samsung with this second-generation tablet.
As expected, the refreshed slate will be a 10-inch variant, and the placard pictured says it will be a "WiFi tablet," meaning that this doesn't give us confirmation of an LTE-enabled Nexus 10, but that still could come at a later time, similar to that of the Nexus 7's release timeline for its LTE variant.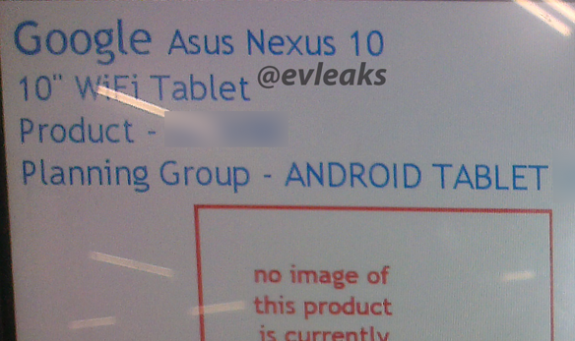 Ever since the original Nexus 10 launched, it hasn't gained as much attention as Google's Nexus 7, mostly in part because the Nexus 7 was popular for its ridiculously low price point, especially considering the performance behind the tablet. The Nexus 10 undercuts the iPad by $100, but because most folks who wanted a full-size tablet already got an iPad, the Nexus 10 was left behind in popularity. However, Google is looking to reboot the tablet to give it some fresh blood, and hopefully boost it's popularity to compete further with the iPad.
The Nexus 10 is rumored to be launching this month alongside the release of Android 4.4 KitKat, as well as the launch of the heavily-rumored Nexus 5 smartphone. All three products are rumored be launching on October 14, but there has been no confirmation from Google about an official date, though, so we'll have to hang tight for a bit until they send out invites.
As far as what new things we might see in the Nexus 10, details are pretty scarce, but if the full-size tablet sees a spec bump similar to that of the Nexus 7, the second-generation Nexus 10 may become a force not to be reckoned with. The Nexus 10 currently sports a 2560×1600 display with an Exynos 5 dual-core processor on the inside. Since Asus will be taking over production, we don't think the new Nexus 10 will use Samsung's Exynos chip, which means we'll definitely be seeing a new processor inside the second-gen tablet. On top of that, Android 4.4 KitKat should add a ton of new features to the tablet, as well as Google's other products, but we'll have to wait until later this month to hopefully find out more.

As an Amazon Associate I earn from qualifying purchases.