7 Reasons the Nexus 4 is Better Than the iPhone 5
The Nexus 4 has enough advantages over the iPhone 5 to make long-time iPhone users consider Google's latest Android phone. The Nexus 4 has several hardware and software features that are simply not found in Apple's offering.
Google's Nexus 4 is built by LG and is the first Nexus phone launched with the updated version of Jelly Bean (Android 4.2) baked in. Google's Nexus smartphone line offer a vanilla Android experience, free of manufacturers' and carriers' skins, applications, customizations and restrictions, many of which do more harm than good.
Of course there's a lot more to the Nexus 4 and iPhone 5 than what we list below, but here are the features that make the Nexus 4 compare favorably to the iPhone 5.
1) Nexus 4 is More Affordable than the iPhone 5
Most mobile users are rightfully concerned with how much gadgets cost, both in terms of upfront costs and long-term costs.  The Nexus 4 costs $299 (8GB) to $349 (16GB), but that's the full unsubsidized price. This means Nexus 4 owners aren't tied up with two-year contracts. iPhone 5 buyers can get the base model (16GB) for $199, which sounds relatively cheap at first glance, but users have to agree to stick with AT&T, Sprint or Verizon to get that subsidized price. Without a two-year contract, the 16GB iPhone 5 costs $649. Carriers bake the iPhone 5's $450 subsidy into subscribers' monthly service contract over time, so it's not like you're actually getting a free lunch.
Nexus 4 owners can get some ridiculously cheap service plans without signing up for a two-year contract. One of our favorites is T-Mobile's $30 pre-paid plan. It's perfect for people that use their smartphones as little computers more than actually placing calls since it has unlimited data (5GB at 4G speeds) and unlimited messaging, but just 100 minutes.  Extra minutes are 10 cents each, but you'd have to spend an awful lot of time talking with friends to make it more expensive than AT&T's cheapest iPhone 5-compatible plan with similar features. The $199 iPhone 5 will cost individual users $109.99 per month with 450 minutes, 5GB of 4G data and unlimited messaging.
Read: Nexus 4 Carrier Comparison
2) Nexus 4 Display Larger than iPhone 5 Display
The Nexus 4 has roomy 4.7″ (measured diagonally) display with a resolution of 1280 x 768 pixels. That's a lot more screen real estate than the iPhone 5's 4″ Retina display, which has a resolution of 1136 x 640 pixels. Pixel density is nearly identical between the two phones.
The Nexus 4 display is noticeably better for watching videos and playing games, providing a more immersive experience.
3) Nexus 4 is Unlocked
Since the Nexus 4 is unlocked, users can jump between AT&T, T-Mobile and a smattering of pre-paid providers in the United States. For example, they can start off with the cheap $30 T-Mobile plan we reviewed here, but join their parents' AT&T Mobile Share plan for $40 if the whole family goes the smartphone route.
Perhaps even more importantly, the Nexus 4 can be used with international SIM cards while traveling. Not only are AT&T's roaming fees ridiculously expensive, the carrier doesn't even let you call anywhere except for back home to the United States and to others in the country you're currently in. If you're in Germany, but need to call London you're out of luck. With international SIM cards you generally have to pay more to call out of whatever country you're in, but at least it's doable.  The Verizon and Sprint iPhone 5 can be used with international SIM cards when traveling, but they are locked to either Sprint or Verizon while in the U.S.
4) Nexus 4 Has Better Maps than the iPhone 5
The Nexus 4 ships with the freshest version of Google Maps, which is miles ahead of Apple's new iOS 6 Maps app. Google's Maps app lets the users dive into neighborhoods with street views, provides accurate 3D views and see business names without clicking on icons. Google Maps beats out Apple's Maps app when it comes to navigation and location accuracy. Google's been working on Maps and Google Earth for years, acquiring and partnering with experts in the field when necessary. Apple's new to the maps game and it shows.
The iPhone 5's Maps are good enough for some tasks, lulling users into relying on the app until it throws a serious wrench into their plans by guiding them to the incorrect destination or worse. Apple's maps app simply can't accurately find emergency rooms, which is important for obvious reasons. Apple's improved the specific search for emergency rooms since we first wrote about the issue, but the results are still muddled with non-emergency businesses, such as private doctor offices and pharmacies.
Perhaps an emergency room search isn't in your immediate future? Apple's Maps still struggles with basic searches, producing inexplicable errors. For example, after going to the dentist yesterday in Pacifica, a town about 10 miles south of San Francisco, I needed to deposit a check and get some cash. I searched for a Bank of America branch on my iPhone and the maps app suggested I go to Broadway and 72nd, a couple of blocks west of Central Park (yes, that park in the middle of Manhattan), which is only about 2,950 miles away from Pacifica.  I haven't been to New York for five months and my iPhone 5's never been there. I most recently searched for a San Francisco business with the Maps app. Instead of running another search I asked my dentist's office assistant for help and she directed me to a Bank of America branch a few hundred feet away.
5) Nexus 4 Wireless Charging and NFC 
The Google Nexus 4 features Near Field Communication (NFC) and can charge wirelessly, while the iPhone 5 has neither. Both of these features are a little premature, but they are requisites for power users looking for the latest and greatest mobile tech.
NFC allows the Nexus 4 to communicate with other phones and other objects, such as payment terminals at stores. The Nexus 4 can run Google Wallet, an app that allows users to checkout with their phones and have the charge passed on to any credit card or debit card.
The iPhone 5 can be used to pay for some items, but it relies on barcodes generated through apps and Passbook.
Google and LG built in wireless charging, which means Nexus 4 users don't have to fiddle with charging cables. The technology's nowhere to be found in Apple land.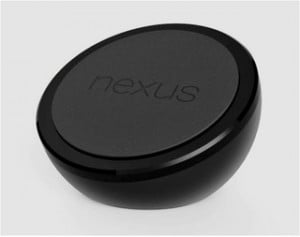 The Nexus 4's wireless charging feature is based on the Qi standard. This means it's compatible with any Qi-enabled wireless charging station, including Google's own charging Orb. Unfortunately, the Orb still isn't available for purchase quite yet.
Read: Nexus 4 Compatible Wireless Chargers
We expect wireless charging surfaces to become much more prevalent in the coming years, making it easier to keep the Nexus 4 juiced up. Of course you can charge the Nexus 4 the old-fashioned way with any micro USB cable. The iPhone 5 has the new-fangled Lightning connector, forgoing the traditional 30-pin iPod/iPhone adapter, making it difficult to keep the latest iPhone juiced up unless you carry around your own charging cable or adapter.
6) Google Services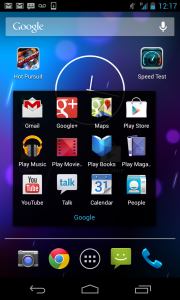 The Nexus 4 has an unfair advantage over the iPhone 5 competing for users that rely heavily on GMail or use Google's Apps for Business.The Nexus 4 runs all of Google's mobile apps beautifully, including Gmail, YouTube, Google+ and Talk. Since the phone's already tied into users' Google accounts, all of Google's services just work out of the box.
While Google generally makes its apps available for iOS, Apple doesn't integrate them into the core experience. For example, YouTube used to ship with every iPhone, but the app now must be manually installed. You can download Chrome on the iPhone 5, but users can't make it their default browser. Apple, of course, would rather have its customers use its own apps and services rather than Google's.
Google Now is another service that shines on the Nexus 4. It's not perfect, but it's much more multidimensional that Apple's Siri. Google Now predicts what information users need and presents it proactively rather than waiting for users to ask for it.
7) More Options in Nexus 4 Camera app
The Nexus 4's camera app offers a lot more control than the iPhone 5's stock camera app. The Nexus 4 allows users to quickly make adjustments with a single tap on the display. Users can quickly switch to the front-facing camera, turn on HDR mode, adjust the flash settings, adjust exposure compensation, correct white balance and go to advanced settings using a single gesture.
Read: Nexus 4 v.s iPhone 5 Camera Shootout
While the iPhone 5 camera app has panorama mode, the Nexus 4 allows users to capture 360-degree Photo Spheres. There are tons of iPhone 5 compatible apps that match or exceed the Nexus 4 camera app's capabilities, but it's a nice treat to have these features ready to go in the phone's native camera app.
Follow Gotta Be Mobile's Nexus 4 coverage for more on the latest Google smartphone.
Stay tuned for a look at reasons the iPhone 5 is better than the Nexus 4.

As an Amazon Associate I earn from qualifying purchases.