Nexus 5 Availability Slips on Google Play
In a similar fashion as the Nexus 4 last year, Google's new Nexus 5 released just yesterday is already sold out from the Google Play Store. After just a few short hours of being listed and available online we quickly saw shipping times slip, and eventually the white 16GB went out of stock.
Now less than 24 hours later the $349 model offering 16GB of storage in both color options is completely sold out, with Google's Play Store now simply stating "We are out of inventory, please check back soon" and suggesting that users opt for the more expensive $399 variant instead. While the initial launch and stability of the storefront was much improved from last year, it doesn't look like the inventory problems have been solved, as we're back to a similar situation this time around.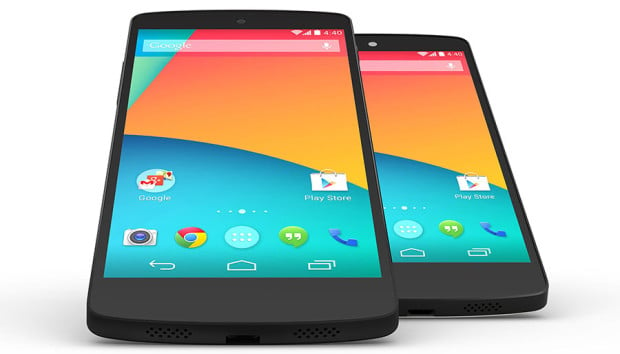 After months of waiting and continuous leaks the Google Nexus 5 finally appeared on the Play Store yesterday early afternoon with no announcement or details from Google, aside from a small blog post. Opting to simply make it available instead of taking a huge stage to make a long, drawn out announcement like the others in the industry.
With the device only being available for about 24 hours, we figured a quick inventory update was in order for those who are just catching up with the news today, and mixed the rush and excitement in the early hours of the Android 4.4 KitKat filled Halloween yesterday. As of this moment the 16GB version is completely sold out, with none available, but the 32GB model is still for sale in both Black and White. However shipping has slipped and now being estimated with a 2-3 week arrival time.
For those who missed the initial news rush and release yesterday, we do have some good news. It appears that Amazon will be offering the new smartphone, with placeholders already appearing on the site. We're expecting the Nexus 5 to go on sale from Amazon this weekend, or on Monday. Then there's also word that Sprint will offer it, on contract, mid next week. So if you'd rather not wait 2-3 weeks for the Play Store, you could sign a contract on Sprint and get the latest Nexus.
To be fair, while many are criticizing Google for the lack of stock, the iPhone 5s sold out in mere hours on Apple's store as well, and don't even get me started on the Gold Edition. When smartphones have this much attention and hype, they're likely to sell out. Many think Google purposely drops the cheaper model out of stock to sell more 32GB, but that just isn't the case. Cheaper options always go first, as consumers are always looking for a deal.
Just like the Nexus 4 last year, we expect more stock of the 16GB to come in and out of stock throughout the next few days, so keep checking back if you're interested in getting the latest tech from Google.