Nexus 5 Hands-on: White vs Black Through Google Glass
Last week Google announced the brand new Nexus 5 smartphone running the latest Android 4.4 KitKat OS, and even though last week was the official launch, today is Nexus day for most. Many consumers who purchased the brand new handset will be receiving them throughout the entire week, even if stock is low and shipping is starting to slip.
The new Nexus 5 comes in both a matte black, and a two-toned white and black color variant, and we figured a quick look at both was in order. Below we have a quick hands-on video comparing the Nexus 5 in white and black, and to make things more fun it was recorded through Google Glass. We've just received both devices, so feel free to ask any questions below or on Twitter at @GottaBeMobile for more details.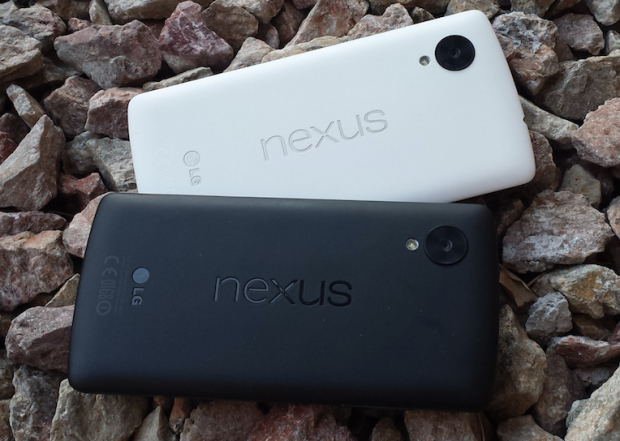 Now we've already been played with the Nexus 5, and a more detailed look check out our Nexus 5 Unboxing Video. While that video is exclusively showing off the white model, below is a quick look at both color variants by Google, as well as the few very small key differences between the colors.
The Black Nexus 5 is a soft to the touch matte rubber, and is extremely comfortable, not to mention isn't too slippery. Users will enjoy holding and operating the smartphone, and the texture is great. However, it's also a dust and fingerprint magnet. Not quite as bad as those old silicon cases that shows dust and pocket link, but the Nexus 5 will certainly show some dust. Without further ado, here is our comparison.
As mentioned in the video below, there's three or so small differences between the two. The black N5 is all black, while the white is actually two-toned. Many would probably like an all-white device, but that isn't how Google envisioned it. Instead we have the same black front fascia, followed by a different glossy black plastic on the sides, then the same soft-touch matte plastic on back. Only this one is white. Then, as we mentioned the white model also has a very small difference to distinguish itself when seen from the front, and that's the round speaker grill on the top. It's also white, which is the only difference from the front.
Last but not least, is the Nexus branding on the rear. The black Nexus 5 is flat matte black all around with a shiny NEXUS logo on the rear, and a shiny LG symbol. The White model replaces that shiny black logo for a matte grey or silver look on Google's white flavor of the new Nexus smartphone. It's a small and subtle difference, and to be honest I'm liking the white model more.
Read: Google Glass 2 Unboxing and Demo Video
That said, the white Nexus 5 isn't quite as textured and while I wouldn't call it slippery, it isn't quite as easy to grip as the black variant. For those who are afraid of dropping a slippery device, this might be something you take into consideration before making a purchase. For now the Nexus 5 and Google Glass have just arrived, and we'll have tons of content on both coming up soon.

This article may contain affiliate links. Click here for more details.