Nexus 5 or Nexus 7 is Google's Gift of Choice This Christmas
It's no secret that working for Google has its share of perks. From being one of the best companies to work for on the planet to getting toys and gadgets well before the rest of the world. As if they needed another, add holiday bonuses and Christmas gifts to the list.
Much like we've seen in recent years, Google is giving the staff their choice of a new gadget to fill the stockings with this holiday season. A few years ago it was a Samsung Galaxy Nexus for all, and last year the choice was between a Chromebook, a Motorola smartphone, or the Nexus 7. This year though, the choices are down to two. Googlers get a choice of a new Nexus 5 smartphone or the 2013 Nexus 7.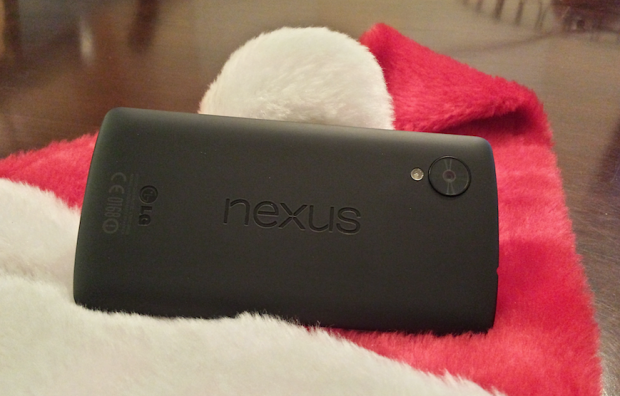 Thanks to multiple Google employees confirming the news, it sounds like Google's offering up either its latest quad-core flagship smartphone, or the wildly popular 7-inch tablet released earlier this year. All Google employees will be able to take a pick, and have it ready and waiting for them. A Chromebook last year and a Nexus 5 this year, sure sounds nice.
Google didn't come right out and say it on Google+, nor did the staff, which was the situation in years past. So either they were told to keep it on wraps, or this year it isn't quite as exciting considering it was expected, given the same options were available in years past. Last year the Nexus 4 was sold out, and thus Google wasn't able to offer it to staff and substituted a Motorola smartphone instead, but this time around there's plenty of LG Nexus 5's available, apparently. That said, shipping is still delayed out 4-5 weeks on the Play Store. Maybe they saved some for the staff this year?
Read: Nexus 5 Review
While most Googlers already have these devices, especially considering the Nexus 5 leaked months before it was ever announced in a Google employees hands, it's nice to see everyone getting equipped with the latest and greatest Android has to offer. Surely some may (blasphemy) use an iPhone, but for the Android fans a new Nexus 5 is probably a pretty excellent Christmas present from Jolly Old Google.
Maybe next year they'll all get an option to choose Google Glass.

As an Amazon Associate I earn from qualifying purchases.