Nexus 5 Render Shows More Android 4.4 KitKat
The countdown to when Android 4.4 KitKat and the new Nexus 5 will be released is still unknown, with multiple rumors claiming all sorts of different dates. We've been hearing October 21st internally, but the latest leaks are suggesting the 28th or even the 31st for when Google will announce the new mobile OS and smartphone.
With launch details still unclear, today we've received the clearest look yet of the Nexus 5 and KitKat both thanks to an official press photo from a Canadian carrier. The image provided by Mobile Syrup shows the Nexus 5 for TELUS, and even gives us a look at their own splash screen and those shiny new Android 4.4 KitKat icons.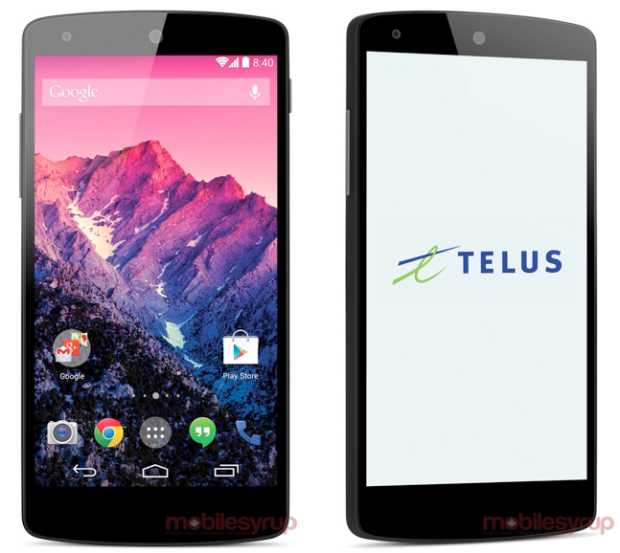 Yes the Nexus 5 has leaked more times than we can count in the past few weeks, but those have all been fuzzy photos in poorly lit locations, not to mention some fuzzy photos of the user interface. Here we see a high-res official press photo with Android 4.4 KitKat on board and all. Following previous leaks we see the new icons for the phone, camera, and app tray launcher, not to mention the folders icon housing the Google apps and more.
Just as leaks have suggested this image confirms the new Google Experience Launcher with transparent on-screen navigation buttons, as well as a transparent notification bar up top. Instead of the old school black bars in previous versions of Android. So far everything is coming together, now all we need is Google to make an announcement and give us the phone already.
Read: Nexus 5 Launch Date Evidence Mounts
If you look at the 8:40 on the clock, 8+4 is 12. Reverse that and you get 21. Maybe Google will release the new Nexus 5 and Android 4.4 KitKat on the 21st. Seriously, all the rumors are getting crazy (Thanks @KitKat) and at this point we just need an actual release date. With an October announcement and November release date making the most sense, Google should have more details to share with us all soon.

This article may contain affiliate links. Click here for more details.