Good things come to those who wait. And after waiting through months of leaks and reports detailing what was next for Google the Nexus 5 was finally revealed on Halloween. Cloaked in Android 4.4 KitKat chocolate the Nexus 5 is the best smartphone $350 can buy, and we'll tell you why.
When deciding on your next smartphone purchase the idea of getting a top-tier flagship smartphone for $349 without signing a new 2-year contract and handcuffing yourself to a carrier isn't usually in the cards. Following a successful sub-$300 Nexus 4 however, Google's delivered the same option again with the new LG Nexus 5. Giving you, the user, a choice, and doing so while offering an awesome experience with what Google envisions Android should be all about.
Read: Nexus 5 Review: One Month Later with Google's Flagship
Google's back with the Nexus 5, showing users and the competition that a top end device doesn't need to cost $600, or be tied to a contract, and below we'll go through all the pros and cons of Google's latest smartphone. Is this the best Android phone for your money? And can you even get one? Read on to find out.
Pros

Beautiful 1080p HD display
Android 4.4 KitKat out of the box
Blazing fast performance
Price point

Cons

Camera and auto-focus
Inconsistent Battery
Camera bulge on back
Nexus 5 Review Guide

Related Nexus 5 Review Articles

Buy the Nexus 5
Read: Nexus 5 Cases and Wireless Charger Now Available
Hands On/Video Review
When you first get your hands on the Nexus 5 a few things will immediatly stand out. One being the gorgeous 5-inch full 1080p HD display with an edge-to-edge screen, thin bezels, and Android 4.4 KitKat giving the interface a full-screen look and feel. The screen is vibrant and crisp and the entire Android experience pops out at the user. The new Android 4.4 KitKat OS is as smooth as chocolate flowing at the Nestle KitKat factory and performance is top notch. The video review below will go over the hardware and software both.
The Nexus 4 was an awesome device for the most part, but many of the issues with a glass back and cracked camera housings plagued many. Thankfully the new Nexus 5 improved in every single area over its predecessor. The Nexus 5 has excellent build quality, a great design, and is comfortable to use. It's a slab of black (or white) unassuming plastic, but there's more than what meets the eye.
Design
The design takes a major shift from the Nexus 4, and instead aligns with the recently released Nexus 7 tablet made by ASUS, in an attempt to blend the Nexus family closer together. The entire device has an extremely comfortable soft-touch matte plastic design. One which is lightweight, durable, and a joy to hold. Even if it's a fingerprint and dust magnet.
Minimalistic and unassuming would be a great way to describe the design. And while it's pretty bland overall, in a way we can't help but love the simple and elegant choice Google made in terms of the look and feel. Offering a black or white model at launch. Embossed with the NEXUS logo on back you'll know right away this is a Google device, but that camera bulge certainly isn't our favorite. Whether it be for the optical image stabilization, or just for looks, that bulge and large aluminum ring both need to go.
Aside from a plastic rear and entire front fascia covered in Gorilla Glass 3 to protect it from scratches, you'll notice the rest is very sleek. Dark in color ceramic buttons give it a premium feel, even if they're a bit wobbly, followed by a nice laser-cut speaker grill on the bottom. As a reminder the Nexus 5 doesn't have stereo speakers. There's only one on bottom, which we'll talk about more shortly, and the other is for the microphone.
Overall the hardware and design is excellent, but we do have a few complaints. It seems with each Nexus there's always a few areas that surprise us, in a bad way, and the Nexus 5 has one or two. As we said above the camera bulge needs to go. It ruins the smooth sleek look, makes the phone struggle to lay flat on a table, and appears to collect dust and scratches easily. Then the oddly shaped round earpiece on the front top has a cutout in the glass, as expected, but the lip just collects dust and dirt unlike other devices. Both of these "design" ideas are a fail, and could have easily been avoided. The build quality may not compete with the aluminum of the HTC One, but is certainly on par with the rest of the plastic devices available today. We're looking at you, Galaxy S4.
Nexus 5 Display
Employing a larger and full HD display compared to last years model users will enjoy a beautiful 4.95-inch full 1920 x 1080p HD display. The LED panel is extremely crisp and vibrant offering 445 pixels per inch, but the colors left a little to be desired. Colors aren't as vibrant or as eye-popping as an AMOLED from Samsung, and sometimes felt a little washed out, but this is only nitpicking and something many users will never notice.
At this point most flagship devices are coming with a full 1080p resolution, and in a size around 5-inches the differences will be minimal. From browsing the web and reading text to viewing full HD videos and streaming Netflix, the Nexus 5 has a gorgeous display that will make any owner extremely happy. We have no major complaints with the display, and you won't either.
Nexus 5 and KitKat Performance
Being powered by one of the fastest mobile processors to date, Qualcomm's 2.3 GHz Snapdragon 800 quad-core with 2GB of RAM, performance will not be an issue. And it won't for the foreseeable future. Add on Android 4.4 KitKat which is designed to fly on top-end hardware, and run buttery smooth on entry level devices, the Nexus 5 should stay relevant for years and years.
One would even go as far as to say there's more power than needed. Especially when you use a dual-core Moto X on stock Android and have no issues. Don't get me wrong, the quad-core is a welcomed edition and makes gaming and multitasking fly, but it comes with a dent in battery life. The hands-on video above should show you all you need to know when it comes to performance. There isn't as much as a hiccup while using the Nexus 5 throughout the day. The power under the hood can handle anything in the Google Play Store, and this device is as fast as they come, for now at least.
A huge part of performance is using Android and the Nexus 5's version of KitKat to your advantage. We're talking about the always available Google Now for searching nearly anything and everything. From browsing the web, opening apps, asking to play music, or getting directions. Doing all of this on a quad-core while using stock Androids multitasking capabilities will keep you moving right along without any issues or slowdown.
Nexus 5 Battery Life
There was one problem with the Nexus 4 last year, and that was battery life. Well, and no 4G LTE. Thanks to an efficient quad-core Snapdragon 800 and KitKat better handling tasks, the Nexus 5 is much improved. That being said, it seriously could be better. A lot better. An inconsistent battery experience would be an understatement. One day we'll get barely 2 hours of screen-on time and the phone will die in 7-8 hours. Other days I can use it constantly for nearly 3-1/2 hours of "screen-on" time and it will last well into 15 hours on a single charge. However, rarely have I seen this device go past 24 hours without needing to be tethered to a wall. But I'd consider myself a power user and others results may vary or be better.
With devices nearly a year old like the Galaxy S4 sporting a large 2,650 mAh battery, and most devices released later this year like the LG G2 sporting a 3,000 mAh battery lasting nearly 2 days, for Google to drop a tiny 2,300 mAh battery in the Nexus 5 makes no sense. Then again, this is a device that needed to cut costs somewhere to foot the $349 bill, and the battery is likely a big one. When devices with similar specs from March of this year last 3-5 hours longer on average, it's hard not to be upset. We've seen multiple reports about the Nexus 5 having excellent battery life, but those results aren't being achieved here. And let's not talk about ART yet, the new Android runtime in beta stages hidden on the device. We'll save that for another day.
If you're coming from the Galaxy Nexus, especially with Verizon, this will be night and day in terms of battery. The Nexus 5 will easily get almost all users through an entire 8 hour work day, which is all we really need when you think about it. But lets just say it leaves plenty to be desired and something Google seriously needs to look at for the next Nexus in 2014.
Nexus 5 Call Quality and Audio
LG has a good track record when it comes to call quality and audio, as does AT&T, which is the carrier we've been using with the Nexus 5. The earpiece is small, but centered, and we have zero complaints as far as location or audio quality. Being able to talk on the phone hands-free while browsing the web or do a Google Now search with AT&T LTE is nice, so that's a plus. There isn't much to say about call quality, but I have a few regarding overall audio.
The Nexus 5 speaker is the other only major complaint for me. While all users are different and many will opt for headphones, I play a lot of games, watch YouTube on the couch, and other things that requires great sound. Sadly the Nexus 5 doesn't have great sound, or even good sound. The dual speaker grills on bottom are misleading as only one outputs audio, and I often found my hand to be covering it completely. You'll need to rethink your holding strategy while gaming or watching videos or you'll find the audio to always be muffled by your hand or palm.
Even when not covered the audio quality is quite poor compared to the HTC One or even the Motorola DROID Ultra or Moto X, and certainly needs fixing. Many comments of late suggest software can improve it but we'll have to wait and see. A quick toggle of the Equalizer in Google Music can improve the experience, but a small tin-can sounding speaker can only be tweaked so much. It isn't a strong point, but certainly not a deal breaker.
Nexus 5 Camera
With the Nexus 5 Google put more effort on the camera compared to previous devices, but it still could use some work. We've seen countless reviews bash the camera, and while it is decent, it isn't the best. It's an "average" Android camera, on par with many, but you'll get this device for less. Remember that. You'll enjoy a well-rounded 8 megapixel lens with LG's Optical Image Stabilization on board. It works quite well in actual use, but the auto-focus is the killer here.
The Nexus 5 has the best camera of any Nexus device, but that isn't saying much. I feel it still can't quite compete with the iPhone 5s, or even the aging Galaxy S4 from earlier this year. Google's been working hard to improve the stock camera software, and recent reports suggests it's about to get a whole lot better. In actual use the only issue for us was the auto-focus being a bit slow. We'd often miss the photo because it isn't extremely fast, and occasionally didn't lock on where we'd like. It isn't the best camera, but will absolutely work great for quick outings, social events, and those Instagram photos. With enough light outdoors, the camera is excellent, and low-light was better than any Nexus to date. Possibly the 5's strong point.
We also have 1080p video here, which was quite impressive overall and on par with other Android smartphones.
Software and Apps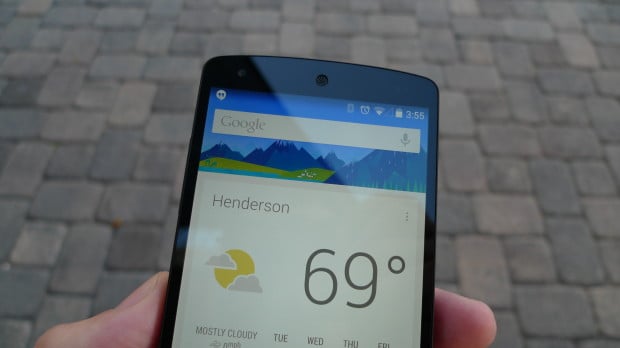 With stock Android 4.4 KitKat there's nothing that will stand out we haven't seen before, but that's fine. This is pure vanilla (or chocolate) Android just as Google intended. There's no active notifications we loved on the Moto X (sadly) and you won't get crazy note-taking features like a Galaxy Note. It's plain Jane, but does everything you'd need extremely quick. Android 4.4 KitKat introduced plenty of small changes to Android, but overall there's only a few visual differences, with most the tweaks being behind the scenes.
It's more than pure Android, it's pure Google. The Google Search (Google Now) integration is deeper than ever before, but this is only on the Nexus 5. Other KitKat devices in the Nexus family don't have the same swipe to the left for Google Now, which some may or may not like. However, we love how quick and easy it is to access. Google Now gives you the information you need and want, often before you ask. It'll tell me if there's traffic on the way home, who is winning the Packers game, nearby restaurants, and everything else we've come to expect. This is all readily available faster than ever before on the Nexus 5.
Google Now is slowly but surely taking over Android, and that's more evident here than other devices, but we're not complaining. You can always opt out of Google Now if you'd like.  I'll be keeping it front and center on my own Nexus 5.
Google also replaced the SMS text application with Hangouts, which can be disabled, and they've made some tweaks to the dialer as well. The dialer is one of my favorite new features of Android 4.4 KitKat. It's basically a Yellow Pages right at your fingertips. As you type the dialer will find nearby places and suggest a number if it isn't in your contacts. Type Best Buy and you'll instantly have the few locations nearest you instantly appear. No searching needed, it's just ready. Incoming calls that aren't known will also be crossed references with Google Search to try and determine who is calling, so that's nice too.
We'll be diving into Android 4.4 KitKat more and more over the coming weeks and months, but just know this is the fastest and best version of Android yet. It's simple, pretty, fast, efficient, and smarter than ever.
Is the Nexus 5 Worth It?
For $349 you'd be crazy to not give the Nexus 5 a look. It's hands down one of the best Android smartphones available (the few cons aside) and being able to offer all of that for only $349 for the 16GB version, Google clearly has a winner here. This is confirmed by the fact that it's sold out already on the Google Play Store. The camera and battery may not be as fancy as some other Android devices available from the competition, but no one can match the price. Well, no one except the Moto G.
Is Google trying to compete directly with the iPhone 5S, HTC One, or Galaxy S4? We're not sure. The initial specs lead us to think so, but then the few cutbacks and low price point paint a different picture. Google's offering nearly everything you'd ever want or need from a smartphone and doing it for less than the others. We'll say it one more time. The Nexus 5 for $349 is absolutely an excellent deal, a bargain, and we can forgive the battery and sub-par camera when considering the price.
Nexus 5 Gallery

As an Amazon Associate I earn from qualifying purchases.