Nexus 6 Deal Offers Huge Savings
We've seen a few Nexus 6 deals here and there since the phone was announced and released back in November of last year, but today one of the best deals yet arrived. The new Google Store has slashed the price by $150 on the latest Nexus smartphone.
Last year some Nexus 6 deals arrived around Black Friday, and we've seen carriers like T-Mobile cut $100 off the price for select users. However, today Google themselves are offering the best Nexus 6 deal we've seen yet. Read on for more details.
Read: 80 Best Nexus 6 Apps
In January Expansys offered up the phone for about $50 off, and if you were one of the unlucky few that missed that deal, Google's unlocked model is your best bet as it works on all carriers. Google isn't offering a rebate or any hoops to jump through, just straight savings on its latest flagship phone.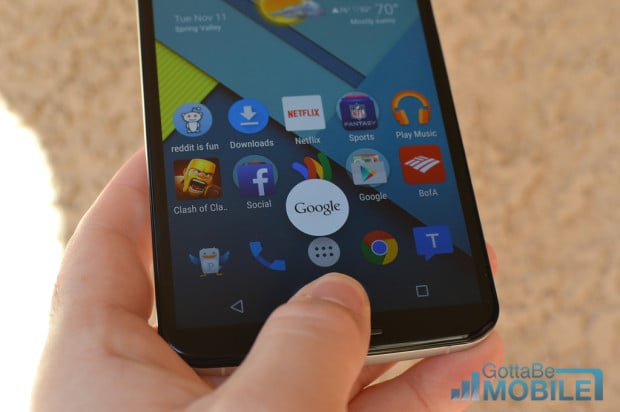 For whatever reason today Google has revealed the best Nexus 6 deal we've seen since it was released back in November, and it's putting the huge phone in reach for many potential buyers. They've lowered the price of both the 32 and 64GB Nexus 6 by $150, making it a steal.
The Nexus 6 offers a large 5.96-inch Quad-HD display, a powerful quad-core processor with 3GB of RAM, 32 or 64GB of storage, and a quality 13 megapixel camera with optical image stabilization. It has a large 3,220 mAh battery, runs the latest Android 5.1.1 Lollipop, and is Google's best smartphone ever released. You can even try the unreleased Android M developer preview software now if you buy the Nexus 6.
It's also the most expensive Nexus smartphone to date. Coming in at nearly twice the price of the Nexus 5 before it, making it a device that was too expensive for many buyers. The 32GB model is $649 and the 64GB variant is $699. That said, right now Google's offering it for as low as $499.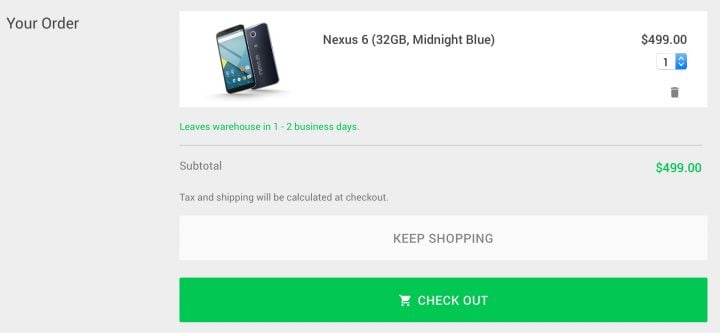 Our Nexus 6 review below goes over the stunning 5.96-inch Quad-HD, talks about the loud and crisp dual front facing speakers, good battery life, and clean interface. Those who've yet to buy the Nexus 6 will want to take a peek at our review, then buy one today while this deal lasts. We'd recommend trying it out in a store first before buying, but at the same time this deal won't last long.
Read: Nexus 6 Review
With the Samsung Galaxy S6, HTC One M9, and LG G4 all available from carriers in the United States Google is facing increasing competition, which could be part of the reason for the huge price cut the Nexus 6 has received today. We're not sure if this is permanent, or just a deal that will be over soon, so buy it while it's still available.
Google's also recently announced a new mobile service called Project Fi, aiming to deliver the best network experience using T-Mobile, Sprint, or free WiFi hotspots around the city. It's a bold new approach to a mobile network and different than AT&T, Verizon, and the rest, and currently only works with the Nexus 6. This Nexus 6 deal could be to get a few more people owning the phone as Project Fi launches, or just to clear some inventory to make way for the 2015 Nexus 5 and Nexus 6 we've been hearing rumors about for the past few months.
All said and done, this is the best Nexus 6 deal we've seen since it was releasedin November, and is certainly worth considering. It's still one of the best Android phones around, and is already running the latest Android M Beta Google announced last week.