Nexus 6 Leak Reveals Key Details
Rumor has it, that Google and Motorola are working together to replace the popular Nexus 5 from last year with a brand new impressive Nexus 6 this fall. While the past two Nexus phones were built by LG, this year many expected the same until a rumor last month suggested a massive 5.9-inch Motorola Nexus.
A report from AndroidPolice initially sparked the rumors of a Motorola Nexus, and since then more and more details have continued to trickle in. Multiple leaks have surfaced, and yesterday some of the first details finally arrived regarding what to expect.
Read: Nexus 6 Specs Tipped in Benchmark
Google's Nexus 5 was codenamed Hammerhead, and this year we're hearing the new Nexus 6 is code-named Shamu, like the killer whale. Since these rumors fired up we've been looking for additional details, and now a full breakdown from the benchmark spotted yesterday have been found which reveal plenty of key details and specs.
Before we begin we must mention that benchmark results can often times be fake, or messed with to vary the result and muddy waters. That being said, yesterdays leak came from a reliable source, and today we have both GXFBench and the popular benchmark app AnTuTu showing the Nexus 6 "Motorola Shamu" running benchmarks and being tested, as well as reporting back the same specs.
We didn't know much regarding the new Nexus 6 until now, as these benchmarks are finally starting to potentially answer a few questions users and prospective buyers may have. When the first rumors of a 5.9-inch Nexus 6 arrived many were concerned, as that is too large for many buyers, but at the same time the Galaxy Note lineup has been wildly successful offering large 5.7-inch displays and more.
That all being said, if these new leaks revealed today are accurate, Google won't be making a phone with a massive 5.9-inch display. Instead the Nexus 6 could be a very well-rounded powerful flagship smartphone, just like models before it. Without further ado, lets take a look.
Nexus 6 Specs (Rumored)
5.2-inch 2560 x 1440 Quad-HD Display
2.6 GHz Snapdragon 805 Quad-core Processor with 3GB of RAM
24GB of storage (probably 32GB, with some being used)
13 Megapixel Rear Camera, 2.1 Front
Android L Release
Usual WiFi, Bluetooth, GPS, NFC, and more
Of course the benchmark leaks don't reveal anything regarding the design or look of the device, and only tell us what's inside of the smartphone. Yesterday these weren't made available, but now we have benchmark results matching the above description from both GFXBench, and AnTuTu.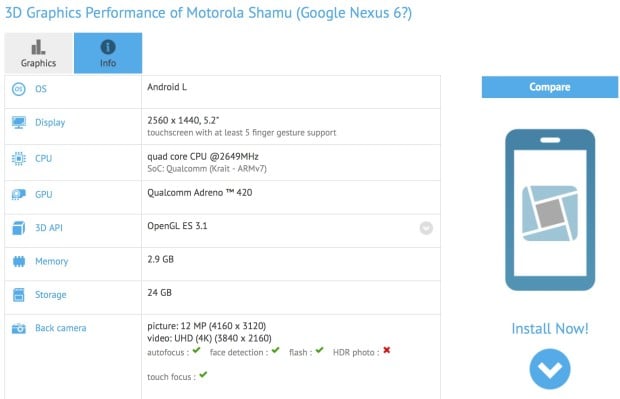 Shown above is the detailed breakdown provided by GFXBench, but again as a reminder, these can often be faked or tampered with. That being said, the results were seeing here are pretty impressive for a device with a 2560 x 1440 Quad-HD display, considering the same high-resolution panel on the LG G3 couldn't achieve scores anywhere near this device.
Below is the original benchmark that leaked earlier this week, suggesting the Nexus 6 could be more pedestrian and line up with specs like the Galaxy S5 or HTC One M8. It also shows how poor the LG G3 performed due to the large display and the smartphone having to power more pixels. The improved Snapdragon 805 in the Nexus 6 along with Android L could make it an extremely powerful and fast smartphone for users.
We're not sure how accurate any of these benchmark results are, but they've now appeared in two different places from two completely different benchmark tests. So either some testing is going on by Google or Motorola, or something else could be at play. The only suspicious part of these leaks is the 24GB of storage, as that doesn't make any sense. Traditionally phones have 8, 16, or 32GB of storage. And no, this isn't the 16GB Nexus 6 with an 8GB micro-SD card inside, as Google's Nexus devices don't support SD cards.
At this point it's too early to make anything of these leaks, but with the Android L release date most likely arriving sometime this fall, a new Nexus device or two will be on board. Rumor has it the Nexus 6 and a new HTC Nexus 8 tablet will debut with Android L this October or November.