Nexus 6 Photo Leak Reignites Rumors
For months we've been hearing rumors about a new Nexus smartphone to go along with Google's new Android L release, and this week the details are finally starting to take shape. After a few new reports reportedly confirmed the specs, we now have what could be our first look at the new Moto Nexus 6 smartphone.
Over the past month more rumors have continued to emerge suggesting Google has two new devices in the works. One being a smartphone, and the other is reportedly a new HTC Nexus 9 tablet.  Rumor has it the Nexus 6 could be made by Motorola this year, rather than LG like the last two Nexus smartphones, and now we have our first photo of the device.
Read: Nexus 8 and Android L Release Date Rumored
Last night news broke that Motorola was in fact making the next Nexus smartphone, and it would be a massive 5.9-inch smartphone. And while that was the original rumor from months ago, everything since then has been suggesting something smaller similar to the 5.2-inch Moto X announced earlier this month. Those could all be wrong, because the photo below is reportedly the Motorola "shamu" aka the Nexus 6.
Spotted on the popular developer website XDA Developers, is the first photo of Motorola's new smartphone. It's hard to say whether this is actually a Nexus device, or simply a phone being made or tested by Motorola. For all we know, this could be a prototype that was scrapped to due the large size.
The image above is the photo in question being compared to the already quite large 5.5-inch LG G3 smartphone that was announced back in May. What we see here is a huge "phablet" smartphone from Motorola, with a tag taped on suggesting it is in fact Google's Nexus smartphone codenamed Shamu.
For months rumors have been back and forth regarding what we can actually expect to see from Google. While the initial rumors mentioned above match the 5.92-inch smartphone pictured, all reports since then have suggested something completely different. We're even hearing Google could have a Nexus X with a 5.2-inch screen, and the Nexus 6 (above) with of course a much larger display.
Read: Android L Release Date Rumored
At this point it's extremely hard to say what's going on here. This is the first physical leak of any Nexus device for 2014, a device which could just be a Motorola prototype that will never see the light of day. There's no Google or Nexus branding to be seen, but that could simply be missing due to this being an early prototype of the Nexus 6.
So what does this mean? It's anyone's guess really. We could be looking at our first glimpse of the new 5.92-inch Nexus 6, or just another Motorola smartphone. It's hard to say for sure, but with all rumors pointing towards an October 16th announcement, you can bet more details will start to emerge at an increasing rate as September comes to a close.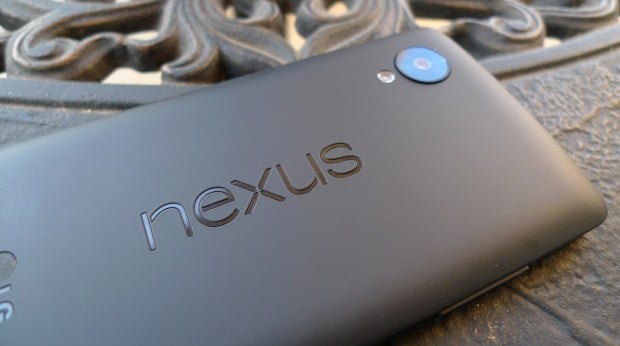 As a reminder, the latest rumors suggest the Nexus 6 will be made by Motorola and have a 5.92-inch 2560 x 1440 Quad HD display. It's rumored to be powered by a 2.6 GHz quad-core processor with 3GB of RAM, 32GB of internal storage, an improved 13 megapixel camera, and finally a bigger 3,200 mAh battery. It sounds like the Nexus 5 on steroids, only made by Motorola instead of LG.
Thoughts on the leaked image? Leave us a comment below.