Nexus 6 Rumors Continue to Swirl
With more and more rumors starting to surface suggesting Google will unveil the Android L release and a few new Nexus devices next month, we're starting to see an increase in news on the rumored Nexus 6 and HTC Nexus 9 tablet.
Over the past few months more rumors have continued to emerge suggesting Google has two new devices in the works. One being a smartphone, and of course the other is a new Nexus tablet. We've been calling it the Nexus 6, and lately leaks have confirmed it could be made by Motorola this year, rather than LG like the last two Nexus smartphones.
Read: Nexus 8 and Android L Release Date Rumored
Initial rumors suggested a massive 5.9-inch smartphone, but lately we've also been hearing something similar to the 5.2-inch Moto X could be what Google has in store for its new Nexus smartphone. However, today a brand new report has emerged which confirms multiple earlier reports, and suggests the large 5.9-inch Motorola-made Nexus X is coming soon. Read on for all the details.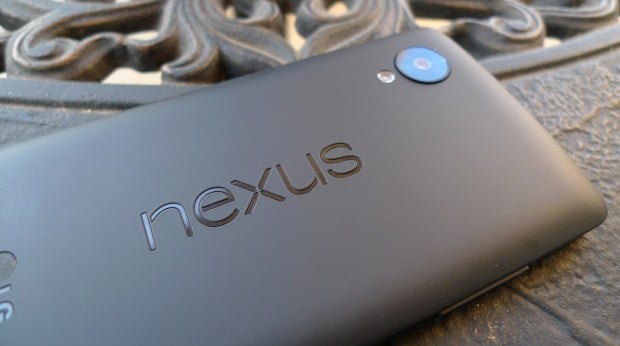 In August news broke that Motorola would be building the next Nexus smartphone, and it would be a massive smartphone coming in at 5.9-inches. Something that many users may not want. This was followed by multiple leaked benchmark results, then conflicting reports that it would actually be a 5.2-inch device. And while we don't know what Google has planned, the rumors are starting to heat up.
This week though, we're back to square one with rumors all over the map. Simply put, Google has done an excellent job this year keeping its new Nexus smartphone a secret, and no one really knows anything at this point.
However, according to 9to5Google the Motorola Nexus X with a 5.9-inch screen is what will be announced next month. At least according to sources close to the site. They suggest a device codenamed "shamu" is Google's new Nexus smartphone, and here's what their sources had to say about it.
This report suggests that Google has teamed up with Motorola and will in fact release a new Nexus smartphone with a 5.9-inch 2560 x 1440 Quad-HD display. It will look somewhat similar to the current Moto X (based on the render above) and essentially be a longer, bigger version of the new Moto X for 2014.
The specs though, are extremely enticing for prospective buyers, especially in the battery department as we all know Google's Nexus devices never have the best battery life. Here's the rumored specs:
Nexus 6 or Nexus X Specs (Rumored)
5.92-inch 2560 x 1440 Quad-HD Display
2.6 GHz Quad-core processor with 3GB of RAM
32GB of internal storage (no micro-SD)
13 megapixel rear camera and 2.1 front shooter
Android L release
3,200 mAh battery
Front-facing speaker
Familiar Motorola design
Buttons centered for easy access
Pretty impressive sounding device, but each Nexus has been something similar to rumors but slightly lower than expectations. The render above was made by someone who's reportedly seen the device, but for now all these details need to be taken with a grain of salt. There was no Motorola, Google, or Nexus branding, and the final design may still be up in the air.
Other leaks have suggested a 5.2-inch Nexus device is coming soon, and 9to5Google doesn't rule out the idea that Google could be preparing to release two Nexus smartphones in 2014. A Nexus X, and possibly a bigger Nexus 6 like what's being detailed above.
Read: Android L Release Date Rumored
Lately we've been hearing Google will debut Android L, the new HTC Nexus 9, and possibly this rumored Nexus 6 all on October 16th, with a release arriving around the first week of November. If that's the case, the Nexus 6 has been finished for a long time and being manufactured. We've yet to see any actual product leaks thus far in 2014 for a new Nexus device, unlike previous years. So until more solid evidence surfaces we'll continue taking all rumors with a grain of salt.
Would you buy a 5.92-inch Nexus smartphone that's bigger than the Galaxy Note 4 and iPhone 6? Or is something along the lines of the rumored 5.2-inch Nexus a better choice? Let us know in the comments below.